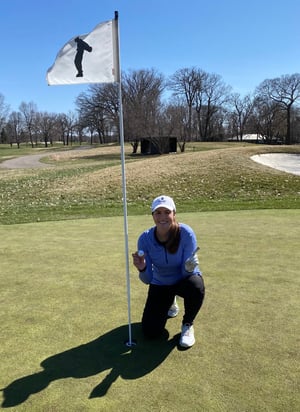 The 2020 golf season began with a tee sheet filled with golfers who were anxious to reunite with old friends and get back to the game that binds them together. Not only was it the earliest opening in the past three seasons, it was a perfect day to put worries aside and practice social distancing on the golf course.
"The news on reopening golf courses came during a time when people couldn't wait to get out of their homes and see some familiar faces, all while playing golf," said Chandler Withington, Head Golf Professional.
For Lydia Kirsch, the day was even sweeter. She posted the first ace of the season on hole #4 from 147-yards out. Playing with her father Tony and brother Jake, it was a family affair for Lydia, who played varsity golf for four years at Holy Family Catholic High School. It was the first ace of her career!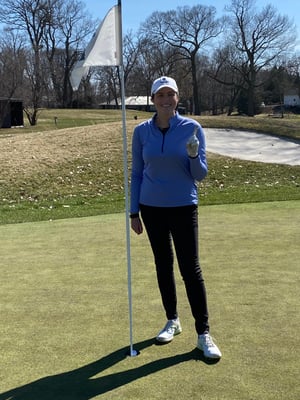 "I was just excited to be out on the course! I used a 7-iron on the tee, and it was one of those shots that just feels good. My brother called it in before we even left the tee box," explained Lydia. "It was just resting right in the no-touch-cup -- gave us a good laugh! The only thing that would have made it better was if the clubhouse had been open to use the drink tokens!"
Last year Hazeltine had a total of 9 holes-in-one with a majority of those coming on the 17th hole. Hopefully this is the first of many more to come. Regardless, Lydia and her family members celebrated her ace together and the rest of the membership was simply thrilled to play golf once again.
"While our members are excited for the start of every golf season after long winters in Minnesota, the start to the 2020 season carried extra significance. For our sport to be allowed to continue, it adds a heightened sense of gratitude to be able to play the game we all love."
Topics: Member Stories