Getting engaged is one of the most exciting moments of your life – followed immediately by one that can be very stressful. After you've called all your closest family and friends to tell them the good news (and retell the story about a million times), it's time to start planning your big day.
Picking a venue has become an even more important part of planning your wedding these days. Take a deep breath – this is your big day, after all. You deserve to have the wedding of your dreams, celebrating it at a golf course is one way to make this happen.
Although a golf course wedding may not have crossed your mind before, it's worth checking out. At some Clubs, you don't have to be a Member in order to host your event.
In fact, there are several surprise benefits of a golf course wedding you might not have considered. Here are a few:
One Day, One Location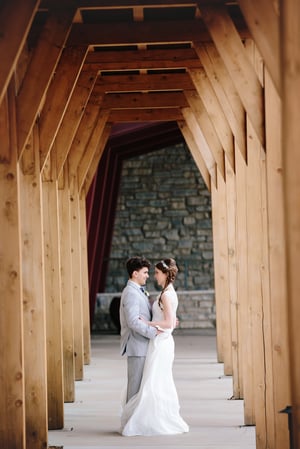 While you might think of a golf club as merely an elegant reception venue, it can be a beautiful site for your ceremony, too. Hosting both your ceremony and reception at one site is easier on you, your wedding party, and your guests for several reasons:
Your belongings stay at one location, no late night hunting for misplaced items.
You only have to work with one staff. Everyone will know your vision and will stick to it.
You get more time with your guests. You invited all these people to your wedding, might as well spend time with them!
Setup and teardown are seamless. With an A team staff, nothing is impossible.
You can ask your stylist and makeup artist to meet you at the club, making for one less thing to coordinate on your big day.
That's what some call, highly efficient.
Wedding Ceremony Options
Most golf clubs have pristine ballrooms, panoramic views of the course, and cozy fireplaces – any of which can be the perfect backdrop to say "I do."
In spring and summer, the course is lush and green. As the leaves change in fall, Mother Nature shares her beautiful pallet of oranges, yellows, and reds. While the golf course is closed by a blanket of snow in the winter, the club house remains open to make all your winter wedding dreams come true.
Membership not required
Not all venues are created equal, but many of them do not require membership in order to hold your wedding at the golf course. Hazeltine does not require membership (or a member-sponsor), so couples can experience the contemporary and timeless feel of a country club wedding no matter what.
Exclusivity
Most golf clubs or country clubs do not have multiple ballrooms. This means when you have an event at a private club, your wedding reception is usually the only one going on. That's right, brides, there's a good chance you won't be in the bathroom with another bride on your wedding night! There's also an upscale quality to a wedding at a country club or golf club.
In-House Catering and Bar Services
Planning a wedding requires making hundreds of decisions – wedding day, venue, wedding party, guest list, music, colors, dresses, centerpieces, etc. – but with a golf course reception, catering and bar service are one decision you won't have to make.
Instead of scrolling through countless caterers online and trying to specifically hire people to tend the bar, the golf course will provide it for you. The relief of having one less decision to make is matched only by the confidence in knowing the food will be delicious and the service will be friendly, professional, and hygienic.
Pre-function space
Not only is the setting of a golf club perfect for wedding pictures, it's also a relaxing and beautiful space for cocktails and hors d'oeuvres. Depending on the facility and time of year, guests can spend time outside prior to dinner which is wonderful for adults and children!
Beautiful Scenery for Photo Ops
So we know the scenery at a golf course isn't exactly an unexpected benefit, but it's still worth noting in case it slipped your mind. If you're looking for beautiful natural backdrops for your wedding day photos, there's no better place than a golf course.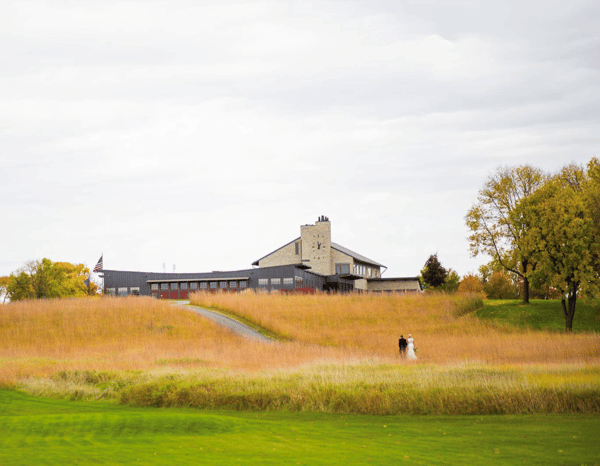 Spring will provide bright green trees that contrast well with the dark hues of the evergreens, and all sorts of foliage and flowers will be in bloom; the trees will be at their fullest and greenest in summer; fall brings a spectrum of yellow, orange, and red to curtain your wedding photos; and those dark evergreens will pop out against the snow-covered hills of the course in winter. At almost any golf course, you're also likely to find scenic water with an adorable pedestrian bridge – imagine the wedding couple photos you can get there, not to mention family photos.
Parking
Yes, parking probably isn't at the top of your list of details when it comes to deciding your wedding venue, but it's still something to consider. A golf course wedding will offer less parking hassles for guests, plus many venues offer valet parking to make getting in and out of the reception a breeze.
If you're on the hunt for the perfect wedding venue, check out the schedule, venues, services, and wedding packages at your local golf clubs. There's nothing like a golf course wedding in Minnesota. Happy hunting!
Professional Staff
You should never underestimate the power of excellent customer service when it comes to your wedding day. From the moment you get engaged, you're going to spend several months planning every little detail – but when the day finally arrives, you don't want to have to worry about any of those details yourself. That's why you pick a venue with an exceptional staff. Golf club staff are some of the best in the business.
Like other vendors, club staff can answer questions you have relating to the venue leading up to the big day – but unlike off-site vendors, they're also onsite the day of your wedding to ensure everything runs smoothly. And because club staff are in the hospitality business, you can rest assured knowing they'll welcome your guests with the utmost respect and friendliness.
| | |
| --- | --- |
| | |
| Jan Hillius | Allison Danoe |
| Sales & Catering Director | Membership & Catering Sales Manager |
Topics: Weddings