When hosting some of the world's most prestigious golf tournaments is part of your club's mission and history, constant updates, modifications and enhancements are expected. Hazeltine is no exception. For Hazeltine, enhancing the experience and usability of its club benefits not only members and tournament guests, but it also benefits any non-member who wants to host a wedding or event at the historic venue.
Beginning in Spring of 2021, the club has enhanced its event venue spaces as well as outdoor areas for members, event organizers, and guests. Hazeltine, which opened its current clubhouse as part of sweeping capital improvements in 2011, is making the experience better than ever.
As part of the most recent enhancements, the club has updated its ballroom, pre-function areas. and banquet patio, which can now accommodate outdoor weddings and events.
Ballroom updates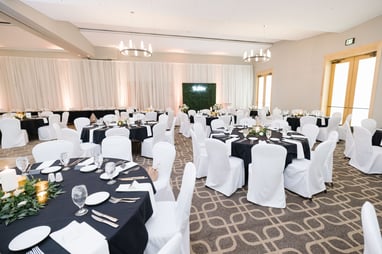 Hazeltine can comfortably accommodate up to 300 guests in its ballroom. As part of these updates, the club replaced the original light fixtures with new, LED fixtures to provide the feel of more natural lighting.
The room also showcases a more contemporary color palette along with new wallpaper that flows between the ballroom and pre-function area.
"Our ballroom and pre-function area is really meant to be inviting and adaptable," said Jan Hillius, Director of Sales and Catering. "We wanted this to be a space that's comfortable for guests and easy to organize for wedding and event planners."
Pre-Function area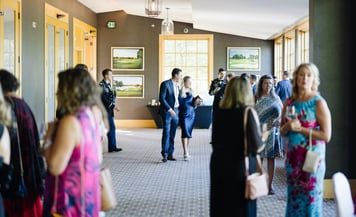 With floor to ceiling windows featured as part of the original redesign, Hazeltine is fortunate to have outstanding views of the 9th and 18th greens with abundant natural light filling the pre-function area.
The space already has an open air feeling and now with new wall accents and a fresh color palette, this space has a warmth and elegance that will be noticeable to members and guests alike.
Expanded patio spaces

The spring, summer, and fall seasons are breathtaking in Minnesota, and time outdoors is precious. By tripling the square footage of the outdoor patio area, Hazeltine now has the ability to host outdoor weddings and events, accommodating up to 120 people in this area, a vast expansion of the original footprint.
The expanded patio area also provides an excellent extension of the pre-function areas, allowing guests to move between an intimate indoor and outdoor setting. With this new space, a wedding ceremony and reception can be in one location, making logistics easier for the bride, groom and their guests.
"Hosting a wedding or event at Hazeltine is a special experience," said Hillius. "Outside or inside, adjacent to one of the most prestigious golf courses in the world – it is truly a unique opportunity available to anyone. "
Learn more about our event spaces at Hazeltine
Hazeltine can accommodate weddings, galas, fundraisers, business meetings, celebrations of life, and any large or small gathering. Contact our staff to learn more about the options for your specific event.