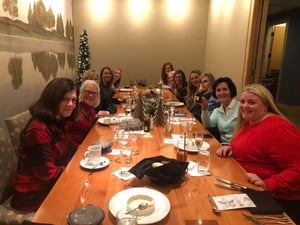 Being a club member means so much more than just a connection to a private golf course – from fabulous food to lasting friendships – clubs like Hazeltine have a lot to offer non-golf members, both men and women alike.
Social events are a lively part of the culture at Hazeltine, providing opportunities for members to get to know one another on and off the course. And the added Women's Dinner event does just that!
Ladies' Night at Hazeltine
While there are several great events at the club, rallying the ladies together for a night of fun was exactly what Hazeltine Member Melissa Iverson has been wanting to roll out at the club.
"My husband has enjoyed the Men's Dinner at Hazeltine so much, I thought this would be the perfect opportunity to organize something for the women. It has turned out better than I expected!" shared Melissa.
Building Relationships over Dinner
Whether new to the club or a long-time member, Melissa felt this was a great opportunity for women to build relationships with fellow members. The first Women's Dinner kicked off in November 2019 and the recurring event has been a smashing success.
"The Women's Dinner is my new favorite event at Hazeltine," said Hazeltine Member Holly Schultz. "The menu selection has been amazing (hello gelato!) and I've met a new golf or social member each month. It keeps me connected to the club during winter months."
The best part about the dinner is that it's incredibly welcoming. Often times, Melissa sets out place cards, seating new members next to welcoming women who are more familiar with the Hazeltine community. That way, the newer members feel right at home and the long-time members are meeting new faces.
Anyone Can Attend
There's a wide age range of attendees, and you don't have to be a golfer. In fact, it's a perfect fit for the members who have never picked up a club but want to explore the other benefits of membership – with some solid gal pals!
"My goal for organizing the Women's Dinner is to get golfers and non-golfers together to enjoy a night out. Big thanks to Hazeltine staff, the food and service have been outstanding," said Melissa.
That's the other perk. The Women's Dinners aren't solely an opportunity to socialize, but a chance to try some of our exceptional menu items. "Everyone comments on the food," Melissa said.
Trying Out Delicious Food
There's a social hour with appetizers, followed by dinner and dessert. Plus cocktails, of course. It's meant to be a time to mingle, so you're not forced to partake in any activities. Just great conversation paired with great food – it doesn't get much better than that!
"The Women's Dinner has been such a fun way to get to know people that you may not have interacted with," said Melissa. "We have women who are social members, avid golfers, women who don't golf, but their husbands do, and women who are just beginning to golf. It has been truly wonderful to meet other members and enjoy a night out."
The Women's Dinners typically take place on the first Thursday of the month. Though originally planned as a winter activity, Melissa hopes to continue the monthly get-togethers through the summer.
Topics: Events, Member Stories