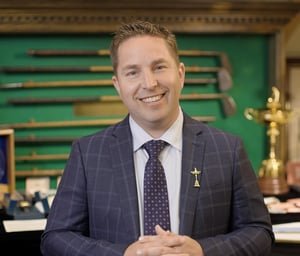 When Hazeltine National Golf Club announced it was conducting a national search for its next General Manager, Phil Anderson knew this was an opportunity he had to pursue. His resume, robust with experience as a general manager at North Oaks Golf Club, Southview Country Club, and years as a PGA professional, was prepped and he was ready for this next step. This spring Hazeltine concluded its due diligence as part of its search for a general manager and determined that Phil Anderson was the right person at the right time.
"We interviewed more than 50 candidates for this position," said Club President Dan Mulheran. "Phil is an excellent leader and has a passion for the golf industry that is going to serve Hazeltine National very well."
Anderson's career in golf began as a caddie at North Oaks Golf Club and then progressed into roles at several clubs as an assistant and head golf professional and ultimately in club management. Anderson is currently the vice president of the Minnesota Section PGA and a national delegate to the PGA of America. Phil recently shared his responses to 5 Questions that will help you get to know Hazeltine's second-ever general manager.

5 Questions for Phil Anderson
Which of Hazeltine's traditions are you excited to build upon?
All our traditions here at Hazeltine are important whether it is the member events or major championships. Traditions are so important and have become woven into the club fabric. The first time through all of these events, I am just taking notes and seeing if I can provide a few small details that elevate the experience and enjoyment for all who participate.
Hazeltine has a rich history of hosting major golf championships. What will be your biggest challenge as the general manager as it relates to attracting and hosting future major championships?
Hazeltine's history speaks for itself. The members of this club are so passionate about helping attract and operate these championships. We have many team members and committee members that are so incredibly versed on what we can provide and what we can do. The land is an asset that is unique for championships. And beyond the infrastructure in place, ensuring that we properly fund the golf course to keep up with the trends in major championship golf will be one of the most important elements of my role. This will help set up Chris Tritabaugh, his team, and the championship committee for success.
What is the most important lesson you have learned in your career that has shaped your approach as a general manager?
Culture is everything. Treating staff well and rallying around them with servant leadership is important to the club and its operations. Having the Board of Governors sharing the vision of the club with the membership is incredibly impactful.
What is the proudest moment of your career?
Being born and raised in Minnesota, I've always wanted to do everything I can for the game of golf and allow others to experience what I've been able to experience around the game. Accepting the role at Hazeltine is probably my proudest moment, as I know boys and girls will attend championships here in the future and it will motivate them to take up this great game. This impact of growing the game is extremely rewarding. I also am very proud of my team members who have developed skills and moved on to bigger and better opportunities. It is incredibly rewarding to see team members grow and progress in life.
Hazeltine conducted a national search for this role. What do you bring to Hazeltine, as a Minnesotan, that a non-Minnesotan could not offer?
It is a tremendous responsibility to help lead this organization into the future. Hazeltine National is the cathedral of golf in Minnesota and it is so important to me that we fulfill this mission and not only provide exceptional experiences to members but continue to deliver championships to the state. My entire family and many friends have been on the property for some of the most important golf events in history. I'm humbled as a Minnesotan to be a part of this rich tradition and history.
Topics: featured