Truthfully, there is no substitute for playing and practicing outside to keep your golf game sharp. Indoor golf lacks three key factors that make up a large portion of the game:
Grass and how the ball lies
Elements like wind, temperature, and terrain
Consequences for a bad shot
These elements cannot be simulated inside to the same degree as real gameplay, so how should we spend our winter months trying to keep our games sharp and be prepared for spring?
Hazeltine National golf professional Mike Barge has a few great ideas on how to maintain your golf game during the off-season, whether you are heading south or waiting it out patiently here in the great white north.

Work On Your Fitness
If you are serious about improving your golf game, winter months can be a productive time to get an edge by getting in better golf shape. Our golf muscles can atrophy if not used, so find a way to get a club in your hands as often as possible.
Weighted clubs are great to swing indoors, but even a regular club swung repeatedly can be beneficial. Start slowly and build up to fast, balanced swings. Set aside swing time once per day, or as much as your schedule allows for maximum results.
Read our blog on Winter Golf Fitness for more tips on exercises and workout routines.
If you grow tired of practice swings at home, you can always try a golf simulator, like the one at Hazeltine. Simulators are good for full swing practice and a great diversion from chipping at the net in your cold garage.
Incorporate The Right Equipment
One of the major downsides of indoor practice is not getting accurate (or any) feedback on your swings. One of the best solutions for that problem is using a ball flight launch monitor to measure distance, direction, and more. After all, without a ball flight monitor, it's just exercise!
Use impact tape or foot spray on your club face to see where ball contact is occurring. Your goal should be to find the sweet spot on your golf face every time.
Everyone has a mirror in their house, right? Mirrors are terrific tools for checking static positions like grip and posture.
Of course, the one element of your game that you can practice almost realistically indoors is your putting game. Improving putting mechanics can be your most valuable time spent during the winter. We use sticks, ramps, path boards, and mirrors to groove the all-important putting stroke. Some of these aids can be homemade and there are numerous resources online that explain sensible putting devices.
Equipment Check
Your body is being fine-tuned for golf, so now it's time to do the same to your equipment. But, checking your equipment doesn't necessarily mean you're buying new clubs. Sometimes it's as simple (and effective) as changing the grips on your clubs.
"The best winter equipment upgrade is replacing worn grips," Barge said. "Make them uniform among the set with all being the correct size for your hands. Simple, inexpensive and well worth it."
Study the Game
Winter can also be used to strengthen your 15th club: The space between your ears. This winter, study up on the game of golf by doing a little fun research.
A couple books I recommend are Be a Player by Pia Nilsson and Lynn Marriott and Fearless Golf by Gio Valiante. Both focus on the non-mechanical aspects of golf and how the best players think and play.
Speaking of good players, Tiger Woods has had a remarkable resurgence after back surgery -- And much of that was due to him being away from competition. The Minnesotan winter takes us away from the game we enjoy and hopefully gives us renewed enthusiasm for the spring. Let's make 2020 the year we all resolve to play more golf!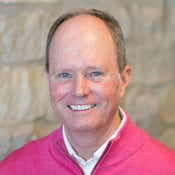 Mike Barge
Director of Instruction
Hazeltine National Golf Club is a private golf club located in Chaska, Minn., about 30 minutes southwest of downtown Minneapolis. The club opened in 1962 with a mission to build and maintain a golf course suitable for the conduct of national championships. Hazeltine is one of only two courses in the United States to have hosted the U.S. Open, PGA Championship, U.S. Senior Open, U.S. Women's Open, U.S. Amateur, and Ryder Cup. Hazeltine's meeting and event space, golf shop and specified services in the learning center are open to the public. More information about becoming a member at Hazeltine is available at www.hazeltinenational.com.
Topics: Golf Tips