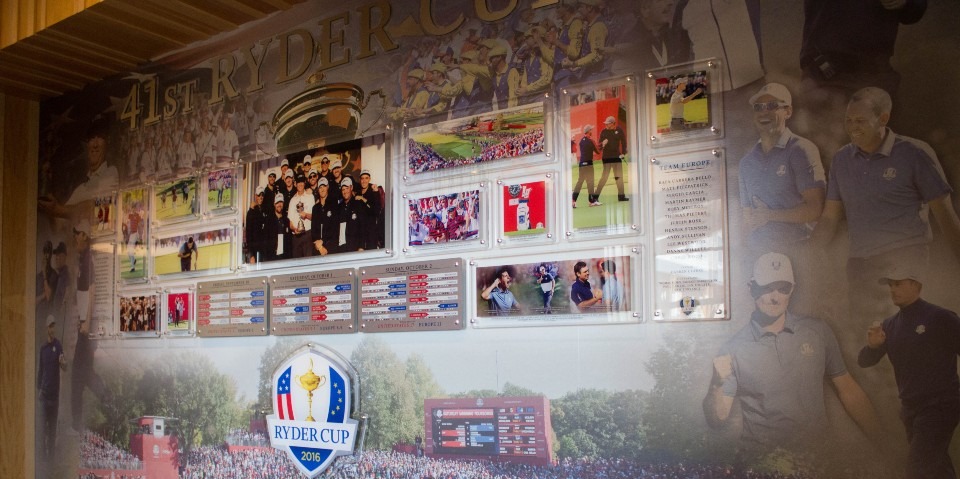 To experience what might be the most captivating space at Hazeltine National Golf Club, you must journey to the far reaches of the clubhouse.
"Not many members or guests get a chance to come down here," says Mark Knutson, Heritage Committee Chairman at Hazeltine. "You walk down a long hallway into the bowels of the clubhouse, past food inventory and coolers, the staff lounge, and the door to the loading dock. Then you arrive at a nondescript door with a small sign that says Heritage Room. You enter and our history is right before you. It's a special place."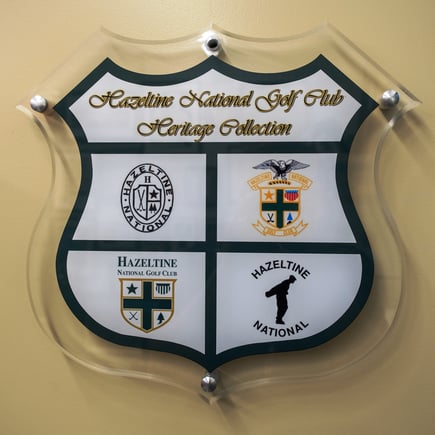 The Heritage Room at Hazeltine is a golf aficionado's dream.
Located in a tucked-away corner of the clubhouse lower level, the room is filled with memorabilia curated from over 60 years of Hazeltine's rich history, including fascinating pieces from men's and women's U.S. Opens, PGA Championships, USGA amateur championships, and of course, the Ryder Cup.
"Our Heritage Committee is tasked with protecting, preserving, and promoting the club's history. We're working on how we best utilize our historical artifacts for the benefit of our club, our members, guests and staff" says Knutson. "Our goal is to educate everyone about Hazeltine. It's a constant work in progress. And along the way, we keep making history so that adds another element to our efforts."
The History of the Heritage Room
Knutson and the club's Heritage Committee are the stewards of Hazeltine's distinguished past. The Heritage Room was built after the 2012 clubhouse remodel.
"This is my favorite room in the clubhouse. Before my involvement, many members and golf staff members, spent countless hours creating the Heritage Room into what it is today."
Knutson was introduced to Hazeltine at the age of 13 when his father brought him to see the 1970 U.S. Open.
"It was my first experience at Hazeltine and my first professional golf tournament experience," he says. "To be a member at Hazeltine has been very special and to be part of this Committee is very meaningful to me."
The 1970 U.S. Open is remembered, by some, for Dave Hill's candid commentary, comparing the young course to farmland.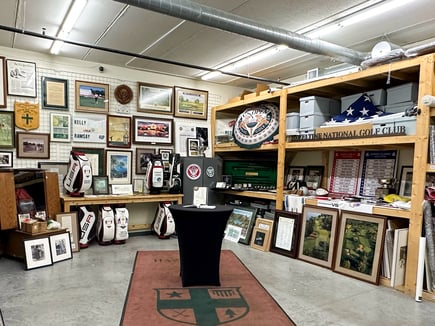 Rich Hill, Dave Hill's caddy for the tournament (no relation), was just 17 in 1970. He was an Evans Scholar caddy from Duluth's Northland Country Club. Recently Hill – the caddy – donated his caddy badge to the Heritage Room as well as his little spiral bound yardage book from the tournament.

"It was fantastic," beams Knutson. "I haven't seen one of those yardage books in years." The book contained Rich Hill's notes and yardages that he provided Dave Hill on every hole. Rich Hill also brought his caddy badge, hat and articles from the Duluth newspaper which was covering him caddying at the Open. "Those items are quite special," says Knutson.

The Heritage Room houses photographs, trophies, artwork, apparel, and all sorts of golf related artifacts from the club's history. There are letters from Jack Nicklaus and Arnold Palmer, the wedge Payne Stewart used in his unforgettable win at the 1991 U.S. Open, Rich Beem's driver from his 2002 PGA Championship victory, and Hannah Green's golf bag from her 2019 KPMG Women's PGA Championship.
Most of the heirlooms are cataloged and organized, either waiting for timely display or simply a cherished conversation piece in this unusual museum.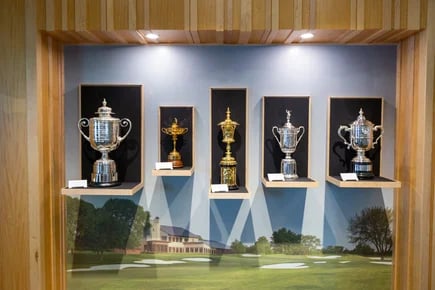 "In the clubhouse, we have great displays that have been created for each of the major championships we have hosted," says Knutson. "We have wonderful major championship and member trophy displays in the Heritage Hallway located outside the Pro Shop. Both are first-class displays which get much attention from our guests"
However, many great items remain in the Heritage Room.
Rare and unexpected finds include a golf ball from the 1970 U.S. Open, a practice range ball, unearthed last summer (2022) from the farm field west of the current practice range by a Hazeltine operations staff member. The ball is either from the 1970 Men's U.S. Open or the 1977 Women's U.S. Open.

"The ball is stamped 'U.S. Open Practice' and it's a Maxfli Dot golf ball; a ball which I used to play with when I was a kid in the 70s", says Knutson. "Nobody played a Maxfli Dot in 1991 when we last held the U.S. Open, so this ball could be well over 50 year old!"

The ball is in pristine condition and was on display in the clubhouse, paired with a current range ball to show the contrast with today's golf ball dimple technology.

"They are different, I can assure you," says Knutson. "Fascinating items like this come to us frequently. It is great fun to be part of this effort for Hazeltine."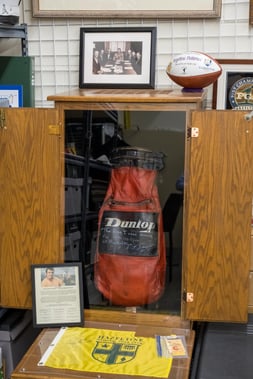 Another unique item in the Heritage Room is the golf bag Tony Jacklin used during his 1991 U.S. Open win at Hazeltine. Jacklin's bag traveled a long way to get to Chaska, MN from his home in Florida.

"A former Hazeltine pro shop staff member drove to Florida, picked up the bag, and brought it back to Hazeltine. It's an old leather Dunlap golf bag that had been sitting in his garage. Tony was kind enough to sign the bag, too," says Knutson.
Living History
But the Heritage Room is more than just a place to hold vestiges of the past, it's a space to share Hazeltine's most valuable asset: its history.
"Our history is our marketing for the future," says Knutson.
The Heritage Committee is intrigued by the idea of inviting prospective members and guests on a pilgrimage down to the basement room, as a casual and fun way to share the rich history of the club.
"It's an interesting way to market the club," says Knutson. "We're working on formalizing a tour that members can take their guests on. You grab a refreshment at the bar and off you go."
"I do think maintaining and displaying our history helps to create member pride and reinforces the culture of Hazeltine which is built on its significant history with the USGA and PGA. Understanding of our history, and having a place to show guests what our club has done over the past 60 years, is important to our future."
Topics: Heritage Hall