Currently in his 21st season with Hazeltine National Golf Club, Joe Fischer is considered by many members (and guests alike) to be the unofficial face of Hazeltine. As the Outside Operations Manager, Joe is the first to welcome golfers by name with a personal greeting and smile when they arrive here at the club. We caught up with Joe to talk a little about what keeps him coming back for more, some things he's especially proud of, treasured experiences, and what's on the horizon. Spoiler alert: He has no plans of leaving and is looking forward to the 2029 Ryder Cup.
What keeps you coming back season after season?
Looking back on his years with Hazeltine, one theme kept presenting itself. The Hazeltine vibe. The culture is just golf – not a country club mentality or character – and that is what makes it fun and has people coming back for more.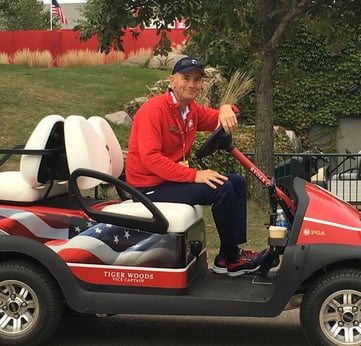 The overall attitude of the club and its members is why he sticks around. He has found a special place here and is proud of the staff he works with, knowing they are committed to representing the Hazeltine brand with respect. Joe describes the general camaraderie amongst the membership and staff as a joy to be part of and included in. There are great friendships in the Leagues and between the core members who always play together.
He believes the casual vibe of the club trickles down to the employees and members as well. There are no big, demanding egos he encounters, and Joe will tell you, "The idea of working at, what is considered by many to be, the best private club in the state that doesn't feel one bit stuffy is real, and makes it a fun environment to work in."
Joe will say he is definitely not a cubicle kind of guy, and this shows through his work each day and the relationships he has built over the seasons. He thrives on being the first point of contact for the members and guests as they arrive and enjoys joking around with those he's gotten to know well over the years. Joe passes this wisdom on to the younger employees who might be working their first job.
"To be able to work outside and not be stuck in an office all day is one perk, but it's really all about the people you work with. It makes or breaks any job," Joe said.
You might say he's the "Joe" of all trades
Joe spent his first 10 years with Hazeltine working part time as a seasonal starter/ranger while also work full time waiting tables at Morton's Steakhouse. Joe's previous experience in the restaurant business, along with his experience at the club, was the hospitality background the Hazeltine executives were looking for, and since then, he's never looked back.
As you can imagine, there are many roles wrapped into the title of Outside Operations Manager. Under the umbrella of golf operations duties, Joe manages the locker room and bag room as well as the practice facilities. On top of all this, he supervises the caddies and leads a great team. Together they keep the golf facilities running smoothly. Each facet of his job is crucial in consistently delivering a top-notch experience on the course and in the clubhouse for every member and guest as they visit Hazeltine.
Fond memories and special experiences
Hands down, his experience and involvement with the 2016 Ryder Cup is at the top. Joe was the head of operations for the event, tasked with managing a team of caddies and making decisions to ensure things were running as planned. Sure, it was fun to mix with the crowd and schmooze with celebrities like Bill Murray, Michael Phelps, PGA executives, and others, but being mistaken for PGA Champions Tour player and former U.S. Open Champion, Jim Furyk, is one particularly fun memory.
Working long days to prepare for the event paid off, as operations for the tournament ran smoothly. The course was in perfect shape and the grounds were bustling with a festive feeling. He enjoyed his involvement with the 2016 Ryder Cup so much that he is looking forward to 2029, when Hazeltine will once again host the tournament.
The opportunity to mix fun and work every day is one of the reasons Hazeltine is able to hold on to great people like Joe for so long.
"The people are what make this place special," Joe said.
Employees Continue a Tradition: The History of Hazeltine
Read more about how Hazeltine has built a membership that is devoted to the game's history in a setting worthy of championships for the world's best golfers.
Interested in Being Part of Our History? Review Our Employment Opportunities
Hazeltine is a collaborative environment that relies on multiple roles. If you would love to contribute to the Hazeltine history and experience, visit the employment page to learn more.
Topics: Member Stories