The golf world is striving to become more ecologically sustainable. The USGA, PGA, golf courses, and individual golfers have their own initiatives and practices. From the PGA of America kicking off the Driving Sustainability campaign in 2019 to the USGA providing sustainability resources to courses and players making responsible decisions each day, every step does add up.
Hazeltine National Golf Club in Chaska, Minn., is taking small sustainable steps that will hopefully lead to measurable results. By moving towards a more sustainable operation, they could serve as an example of how courses and players can get their start with new, sustainable practices.
Installing new water stations, reducing waste
We all know how important it is to stay hydrated when you're golfing, especially throughout the Minnesota summer heat. In past years, Hazeltine generated as many as 36,000 plastic water bottles each year, equating to nearly one ton of plastic.
"Our leadership team and Board of Governors looked at these numbers and decided to tackle that and cut it down," explained Eric Rule, General Manager at Hazeltine. "We wanted to lessen our carbon footprint and reduce the amount of trash we contribute."
In order to reduce the waste, Hazeltine installed three drinking water filtration stations, making it easier for members to use reusable water bottles. The dispensers are no-touch, COVID friendly in-wall mounted units that utilize specialized filters designed to supply superior water quality.
As an added bonus, water bottles were provided for every member of the club. "We knew we could make a significant difference this way," says Rule, "This change is really in line with the values of our club and our membership."
Serving fresh ingredients from the garden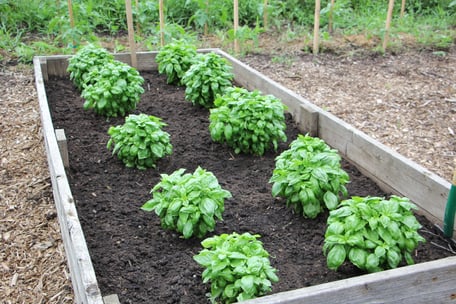 Hazeltine prides itself on a dining experience that features premium, chef-prepared meals served in cozy, airy dining areas. What some may be surprised to know is that many of the items on the menu, such as ingredients in sandwiches, salads, and pizzas were grown on-site at Hazeltine. Over 30 varieties of vegetables are grown in eight raised garden beds -- from eggplant, squash, herbs, tomatoes, kale, beets, and radishes.
Of course, as all gardeners know, reaping a harvest doesn't come without challenges, but the Hazeltine kitchen staff has championed the cause. "We've been learning about optimal soil conditions, proper sunlight, and of course, chasing away rabbits," says Michael Patton, Hazeltine's Executive Chef.
"The garden is an important piece of our culinary program to not only provide us fresh ingredients but as a tactile representation of the quality of our dining," adds Patton, "As we keep learning, we're committed to continuing to serve our members the freshest homegrown ingredients."
Providing habitats for pollinators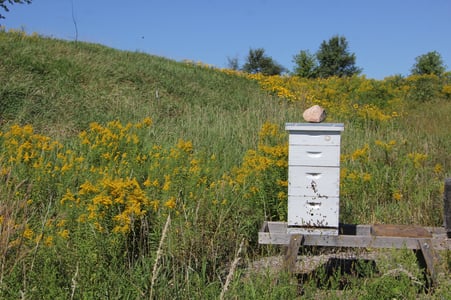 Pollinators like bees and butterflies are essential to continued food production and overall environmental health. That's why several years ago, Hazeltine welcomed a bee colony onto the grounds. They've been learning the best practices of beekeeping processes and care, which is crucial for staying healthy through Minnesota winters.
"We don't currently harvest or use honey from our bees," explains Rule, "But we hope to one day. We love the pollination presence they bring to the golf course and what they do for the environment."
Leading the future of clubs
As Hazeltine looks to the future, it has been guided by the values of its members, as well as a deep commitment to serving the community and being a part of caring for the planet.
"As an internationally recognized club, it's up to us to shape the perceptions of golf courses across the globe," explains Rule. "Not only do these initiatives fit hand in hand with what our members' values, who love nature and want to protect our open spaces, we can also set an example and lead other courses to follow suit."
Hazeltine National Golf Club is a private golf club located in Chaska, Minn., about 30 minutes southwest of downtown Minneapolis. The club opened in 1962 with a mission to build and maintain a golf course suitable for the conduct of national championships. Hazeltine is one of only two courses in the United States to have hosted the U.S. Open, PGA Championship, U.S. Senior Open, U.S. Women's Open, KPMG Women's PGA Championship, U.S. Amateur, and Ryder Cup. Hazeltine's meeting and event spaces, and golf shop are open to the public. More information about becoming a member at Hazeltine is available at www.hazeltinenational.com.
Topics: Member Stories, Golf Course Update, Membership