Did you recently become engaged? After, "Let me see the ring" the most common response is, "have you set a date yet?"
There's no wrong season for weddings. In fact, each season offers its own unique benefits. Here are some reasons to consider a summer wedding. And guess what? If you're on the fast track, Hazeltine has some prime summer dates for this year and next.
Scheduling Summer is so great because it has built-in long weekends: Memorial Day, 4th of July, and Labor Day. Holiday weekends are great for weddings because unlike Thanksgiving and Christmas, these aren't strictly family-oriented. Kids are out of school, travel is easy, and the sun is shining—making it the perfect time to travel.
Outdoor Options
You don't need an outdoor ceremony to incorporate the great outdoors into your wedding. A reception venue with patio seating offers a great setting for your cocktail hour. This way, you don't have to worry about a plan B for your ceremony.
Great Weather
If you're in northern climate, like here in Chaska, Minnesota and other nearby Minneapolis suburbs, the weather in June, July, and August tends to be fantastic. The average high in June is 79, 84 in July and 81 in August in the Twin Cities, which makes summer the perfect wedding season.
Abundance of Flowers
Not only can you find a better variety of flowers in the summer months, but you'll often find better pricing, too. Flowers are abundant this time of year, with many grown locally. This means no additional costs for importing exotic blooms.
Clothing Variety
With so many choices, it's no wonder that some brides choose multiple dresses. Options range from bright bold colors to soft pastels, white tux jackets to no jacket. Not to mention options for open-toed shoes and sandals with no fear of frostbite.
Fresh Food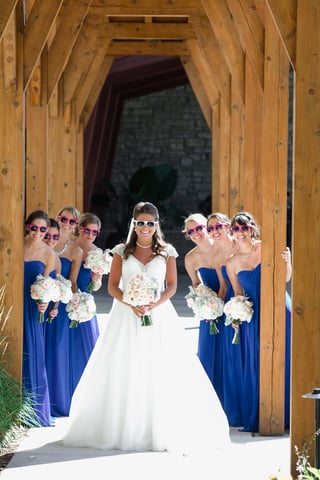 Abundance adds variety, and farm-to-table food is in season. Locally sourced fresh foods evoke a farmers market, and expand the menu options.
Outdoor Photos
Everything looks great when it's greened-up, and that natural lushness makes a great backdrop and contrast to your wedding party colors. Parks, fields, lakes, open spaces--photo settings are only limited by your imagination.
Long Days & Longer Nights
Long summer nights mean the party's on! More daylight means more energy. Your guests are likely to dance until the music stops, instead of hurrying home to bed.
Sold on a summer wedding? It's still possible to have your wedding this summer. Find out how to plan a last minute wedding and how to plan a wedding in three months.
Hazeltine National Golf Club is a private golf club located in Chaska, Minn., about 30 minutes southwest of downtown Minneapolis. The club opened in 1962 with a mission to build and maintain a golf course suitable for the conduct of national championships. Hazeltine is one of only two courses in the United States to have hosted the U.S. Open, PGA Championship, U.S. Senior Open, U.S. Women's Open, U.S. Amateur, and Ryder Cup. Hazeltine's meeting and event space, golf shop and specified services in the learning center are open to the public. More information about becoming a member at Hazeltine is available at www.hazeltinenational.com.
Topics: Weddings