Message from the President
by Bob Fanfinski, Club President
Fellow Members,

It's been an exciting few weeks at Hazeltine National; first with the social media announcement that our Club will be the first in U.S. history to host the Ryder Cup for a second time; and then the press conference held on April 10 with PGA of America officials, the American Marshalls, and the Olympic gold medalist U.S. Curling Team all in attendance to participate in the historic official announcement. The membership should be proud that all the hard work and dedication performed by our members at previous events has resulted in this historic announcement. (View the Fireside Chat in its entirety on the member website.)

Our Annual Meeting will be held on Sunday, April 29 at 5:00 pm. This is your chance to come and hear about what is going on at Hazeltine. I encourage all of you to attend. It's been a year of looking forward with the announcement of three events in the upcoming decade: the 2019 KPMG Women's PGA Championship; the 2020 US Junior Amateur; and now the 2028 Ryder Cup. The General Chair of the 2019 KPMG Women's PGA Championship, Ruth Kimmelshue, will be on hand at the Annual Meeting to give us an update on the championship.

Since our last annual meeting we have hired our first General Manager in many years. If you haven't yet met Eric Rule, there will be an opportunity to do a meet and greet with Eric at our Annual Meeting and at a reception following.

Other major initiatives this past year include the approval of the construction of new black tees; preliminary, foundational work on a new long range plan; and most recently the creation of an Ad Hoc Committee to study and recommend changes to our governance system, including those necessary to incorporate a General Manager. The Board unanimously approved John Brand to serve as the Chair of the Ad Hoc Governance Committee. John has recruited a committee of non-Board member volunteers to make recommendations to our Board for changing our governance model.

During the past year, we also saw our long-time Head Professional Mike Schultz inducted into the PGA of America Hall of Fame. In the near future we will be reporting on how the Club will be memorializing and celebrating that honor.

Finally, we will be saying goodbye to two Board members at our Annual Meeting. Steve Hockett has served on the Board for nine years. During his term, Steve did a terrific job chairing our Membership Committee and most recently chairing the Long Range Planning Committee. Many members may not fully understand how difficult it is to chair the Membership Committee. Steve made it look easy.

We will also be saying goodbye to Tim Curoe who has served on the Board for six years. Among Tim's most important contributions are the fact that he led a number of search committees in the hiring of some of our key senior leadership members, including Chris Tritabaugh, Chandler Withington, Cathy Justice, and Eric Rule. Tim's thoroughness and professionalism can best be understood by looking at the wonderful people he has had a part in hiring.

I look forward to seeing many of you at our Annual Meeting.

Bob Fafinski
President
---
KPMG Women's PGA Championship Update
by Ruth Kimmelshue, General Chair
We are just over one year away from the start of the KPMG Women's PGA Championship at Hazeltine. Plans are ramping up and activity around the event is increasing. We have completed identification for all of the Division and Committee Chairs (see attached chart). Now it's time to populate the committees with the volunteers that truly enable a successful event. Hazeltine Members will have first chance to sign up as volunteers. Registration for Golf Members will open on May 1, 2018. Social Members can register starting on May 15, 2018.

Eric Wilkinson, PGA Manager of Volunteer Operations, will send an email with a link and a registration key to both groups in advance of the registration date. (If you have been asked by a committee chair to participate as a "chair pick" you should have received a separate registration e-mail already and will not need to register via the member registration.)

Once the link is received, members will have the opportunity to enter the registration system, view descriptions for each committee, and to register for any committee that has availability. Volunteer positions will be secured with the completion of the steps for registration. The HNGC member registration window will be open until May 31, 2018. Members can still register after that, but will be competing with Past PGA volunteers when those folks start registering on June 4, 2018.

We continue to be excited for the opportunity to once again demonstrate excellence in the hosting of a major championship at Hazeltine. Thanks to all for your support as we work together to "Inspire Greatness."

Regards,

Ruth Kimmelshue and Marcia Lockman
---
Manager's Minute
by Eric Rule, General Manager
Cart Safety
To protect both yourself and our golf courses, we encourage all members to read the following guidelines for safely driving golf carts at Hazeltine. We want to ensure that you, your partner, and competitors are safe as well as keep the golf course pristine.
Care of the Course
Golf carts should only be operated from the driver's side.
Never drive with more than two occupants or allow riders on the back of the car.
Be sure your passenger is fully seated and check for obstructions before moving.
Keep your entire body–particularly your feet–inside the cart when moving.
Drive slowly through turns, and drive straight and slow up and down slopes.
Be certain to set the brake when coming to a complete stop.
Use extra care when operating a golf cart in reverse, on hills, wet turf, loose surfaces, or rough terrain.
Remove the key when the golf cart is not in use.
Do not operate a golf cart when impaired by alcohol or drugs.
Golf carts do not protect from lightning–seek appropriate shelter if lightning is present.
Follow the rules
The wear-and-tear of golf cart traffic can cause unsightly and expensive damage to the golf course. Tire ruts in soft, wet areas can take weeks to heal. Compaction caused by heavy traffic can also ruin the playing surface. You can help prevent damage by following the course's standard golf cart policy and obeying temporary restrictions caused by weather, construction, or other factors.
The Golf Course Superintendent has final say over allowing carts to be used based on course conditions. When carts are not allowed on the golf course, this includes all carts, even those allowed for medical purposes.
General tips for driving carts safely
On hills and steep slopes:

Steer directly down the hill and do not turn on the hill.
Do not try to drive across the face of the hill.

Never drive a golf cart through standing water in fairways or any turf areas that are obviously wet.
Never drive onto a green, collar, or tee; or any marked hazard.
Never drive into an area that has been recently seeded or sodded.
Avoid abrupt stops and sharp turns that cause skidding.
Spread out wear-and-tear by avoiding compacted areas.
Follow signage that direct cart traffic.
Avoid driving over sprinkler heads and yardage markers.
Don't drive carts into out-of-play areas that may be environmentally sensitive (such as wildflower patches, native grass plantings, and marshes).
Golfers with medically certified disabilities may need access to areas not normally open to golf cart traffic. Their golf carts are marked with a flag to let others know they have special access to these areas.
Golfer needing handicap access must apply through the General Manager's office. You can email him for a medical form.
---
April 26 Course Update
by Chris Tritabaugh, Course Superintendent
If this kind of weather is our reward for all the April snow, I might just take the trade. The golf course comes to life not just by the day, but almost by the hour. The course is greener in the afternoon than it was in the morning and the frost is diminishing almost as fast. As predicted, the power of the sun, equal to that of mid-August, has made things happen quickly.

The golf course will not be ready for the weekend, and I'm not ready to predict a day, but I do think we could be playing by the following weekend. Official word will likely come early next week.

In the meantime, range balls have been placed in the fairway at the north end of the practice range. Balls will remain in this area until we begin to get some growth on the tees. I suspect we will be ready to use the tees about the same time the course is ready to open.

It won't be long now!
---
Golf Notes
by Chandler Withington, Head Golf Professional
Men's League
When
Thursday evenings
Tee times off the 1st tee from 4:00 PM – 6:30 PM (9-hole matches)
Who
32 two-person teams (64 players)
Eligibility: All regular and junior golf members
All teams on the wait list will form the substitute list
All teams are created by members pairing themselves. If you would like assistance finding a partner, please contact the Golf Shop
Cost
Format
Match Play

The teams will play 9 holes, consisting of three 'mini-matches' of 3 holes each
Each 9-hole match will consist of 10 points with the following breakdown

Each 3-hole mini-match will count for 3 points. Halved matches equal 1.5 points per team
A team will receive an extra point for winning 2 or more mini-matches
Handicaps
Players will receive 100% of their handicaps
The low handicap in each match will play at scratch, with all other players handicaps being adjusted accordingly
As these are 9-hole matches, players will receive half of their 18-hole handicap
Half shots will be allotted for an odd number difference in handicaps
Tees
All play will be from the gold tees
Players may decide to play from the white tees and have their handicaps adjusted accordingly
Players must declare which tee they will play from for the entire season no later than May 24
Scoring
Results from each week must be submitted to a member of the golf staff immediately upon the completion of play
If a team fails to show up for a match, it is understood the match was not played. Neither team is entitled to any 'free' or 'split' points.
If only one player from a team is represented, they may play one individual mini-match, as well as the team match on their own
If weather shortens any matches, only mini-matches which have been completed will count

Example – if a match has played 7 holes, 2 mini-matches would count
Registration
Teams may register for the Men's League starting on May 1, 2018 on ForeTees
Space in the league will be limited to the first 32 teams to register
Teams on the wait list will become the substitute list, which will be contacted on a weekly basis when players are unable to play
---
Forward Tee Policy
During handicapped events, players have the following options:
They may play the designated tee for the event, or
They may opt to move forward a set of tees
In moving forward, men can move from the gold tees to either the gold/white combo tees or the white tees. Women can move from green to black tees.

If the player decides to play forward, their handicaps would be adjusted according to the USGA Handicap Manual Rule 3 – 5 by:
Subtracting the difference in the course ratings from their handicap at the new tee location
Applying the percentage of handicap allowance for the event would then be applied
For example: Mr. Jones is a 14 handicap from the gold tees, and 13 handicap from the white tees. The difference in the course rating between the tees is 2 strokes. If the handicap allowance for the event was 90%, Mr. Jones would play as a 10 handicap if he elected to play forward (13 handicap – 2 strokes x 90% = 10). He would be a 13 handicap (at 90%) if he remained at the gold tees.

All players who move forward in handicapped events will not be eligible for gross scoring.
---
Caddie Payments for 2018
Once we open the golf course, please be aware there will be a slight modification in how we pay caddies. In past year's, a member would fill out a caddie ticket, have the amount billed to their account and the caddie would receive a weekly paycheck. Going forward, caddies will be payed cash directly from the member or guest at the completion of the round.

Cash advances will be available only for the purpose of paying a caddie. At the completion of your round you may fill out a cash advance ticket. Cash advances will be distributed by the Caddiemaster.

If you have invited guests who will be taking a caddie, please prepare them for this change in our policy.

As a reminder, our suggested caddie rates including tip are:
Evans/Honor Caddies: $70 per bag
A Caddies: $60 per bag
B Caddies: $50 per bag
Forecaddies: $15 per bag
---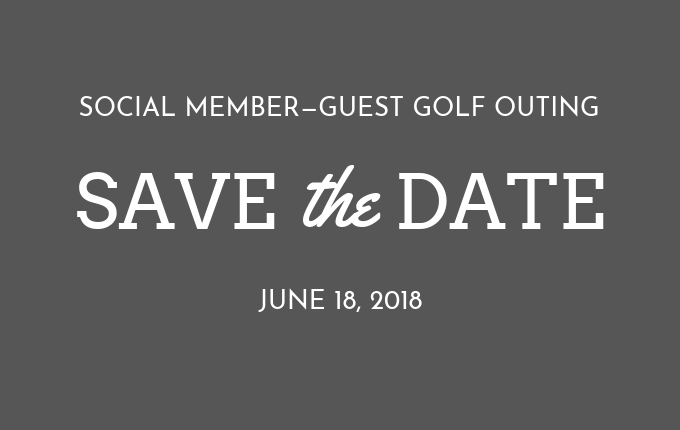 ---
Welcome New Members
Golf Members
Parker and Kathy Pemberton
Parker and Kathy are new Junior Legacy members. Parker's parents have been members for years. One of Parker's top memories at Hazeltine is winning the Junior Club Championship when he was 10. From that day on, it has been his goal to become a member himself. Kathy is interested in learning the game of golf.

Jacob Augustine
Jacob loves the outdoors and sports. He is excited to better his golf game through Hazeltine's challenging course. He was taught the game of golf by his grandfather at a young age. Welcome to the Club, Jacob!

Joel and Holly Schultz
Joel and Holly are excited to join the Club. Golf is a lifelong passion of Joel's and he is excited to teach his sons the game. Holly, is looking to learn the game and take lessons. As a family, they are excited for the volunteer opportunities with the upcoming tournaments.
Social Members
Mike and Jean Buller

Gary and Jennifer Hicks

Karl and Kelly Omdahl

John and Jackie Aldritt
---


---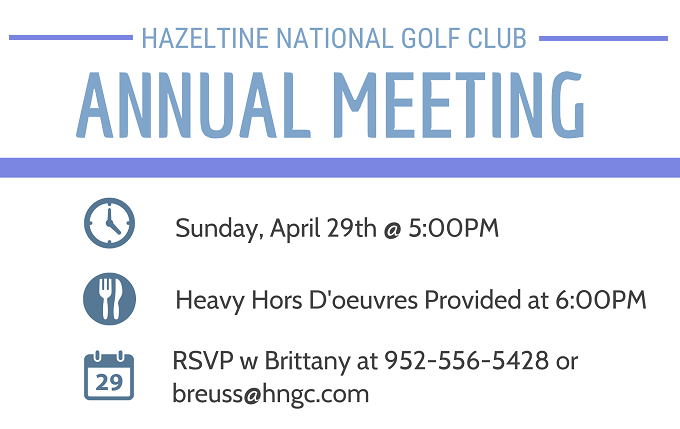 ---