Golfer comments since the course opened have been very positive; far more positive than the weather. As frustrated as golfers have been with the weather, that's at least as frustrated as the turfgrass staff and myself have been. Wet, cold and cloudy are not good combination for grass growth, let alonge fine tuning for a Major Championship. We have just less than one month until the KPMG and we're just trying to get grass to grow, let alone being able to fine tune our surface.
As everyone knows, we were fortunate this spring, due to our bentgrass populations, to avoid any significant winter kill. However, it does not mean our surfaces were left without impact from this winter's ice cover. Sections impacted by ice exist, in varying sizes, on nearly every green. The front portion of 1 and 4 and nearly all of 8 green are examples where the ice had some amount of negative impact.
While not dead, these areas have been slower to come out of winter; the lack of consistent sun and warmth have not been helpful in getting these areas to come in line with the rest of the putting surfaces. The photo below shows one such area up close. You can see the small plants are there waiting for consistent sun and warmth.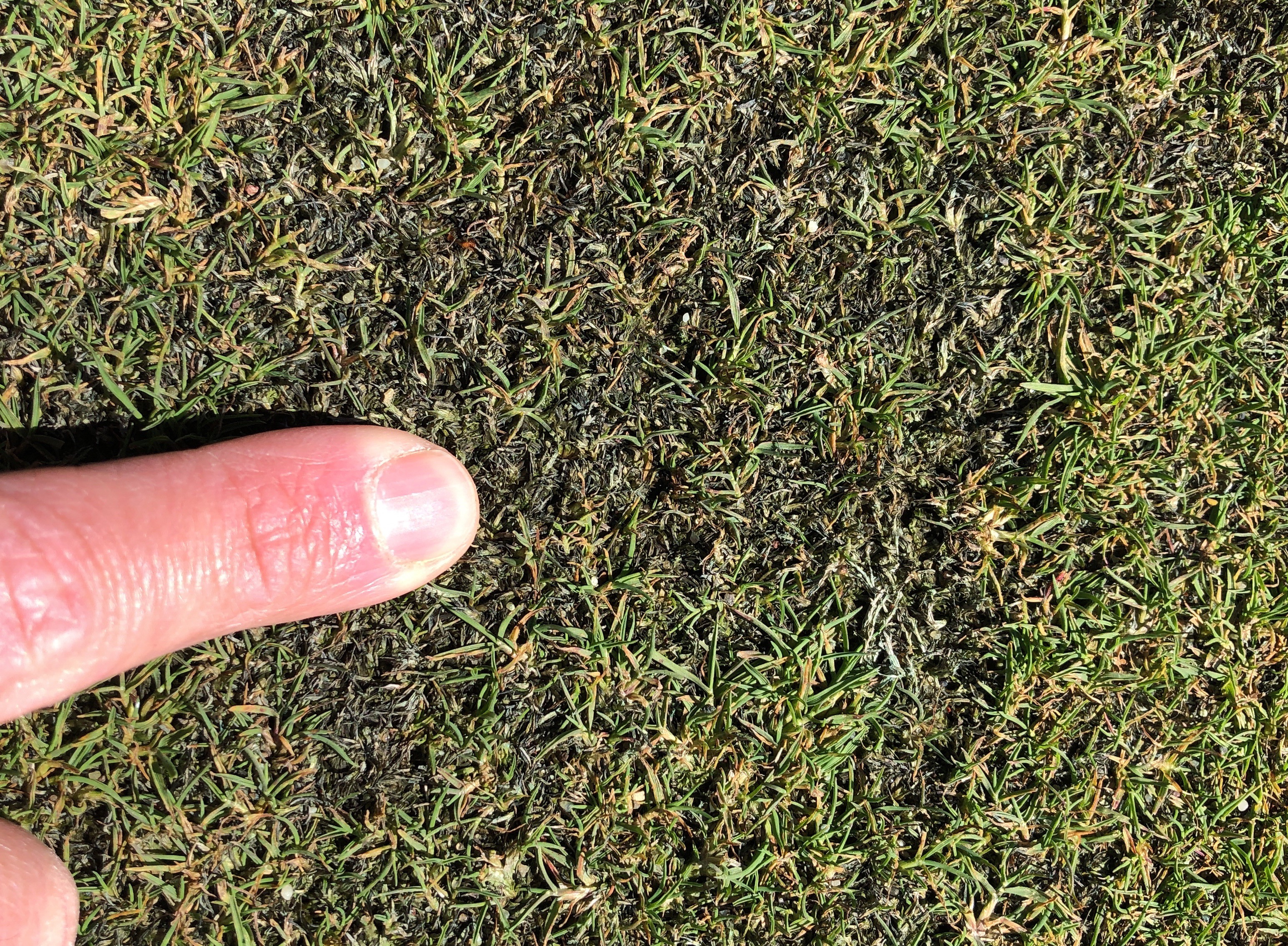 A few notes from around the golf course:
· The putting surfaces greened up nicely but have done very little since that time. Growth has been very slow, even slower in the aforementioned areas impacted by ice. These ice areas just need more time, as they're going to require more growth than normal to get them matching the rest of the surfaces.
· This is the same for the DryJect holes. In some areas they're still noticeable, and this is down to the lack of spring growth. There is a big difference between green-up, which came quite nicely, and growing grass, which requires consistent warmth.
· Eventually the ice impacted areas will catch up to the other areas. In the meantime, we're taking advantage of small weather windows like last week. Last Monday (5/13) we made nitrogen applications to the greens, we did so again this Tuesday (5/21). We'll keep doing our best to hustle these areas along as quickly as the weather allows.
· Eventually it will warm up and these areas of the greens will start to move. Bentgrass fills areas in a bit of an exponential manner. One plant becomes 2, becomes 4, becomes 8, becomes 16, etc. We're hovering around 2-4 right now. Consistent warm weather, some further nitrogen and these areas will fill quickly. The plants are there, we just need them to grow.
· The main tee on 17 and the forward tee on 4 were also impacted this winter by ice cover. These tees are impacted 1) by the number of divots they receive, 2) by their environment. In the photo below you can see how the damaged areas on 17 are almost perfectly lined up with the shade line.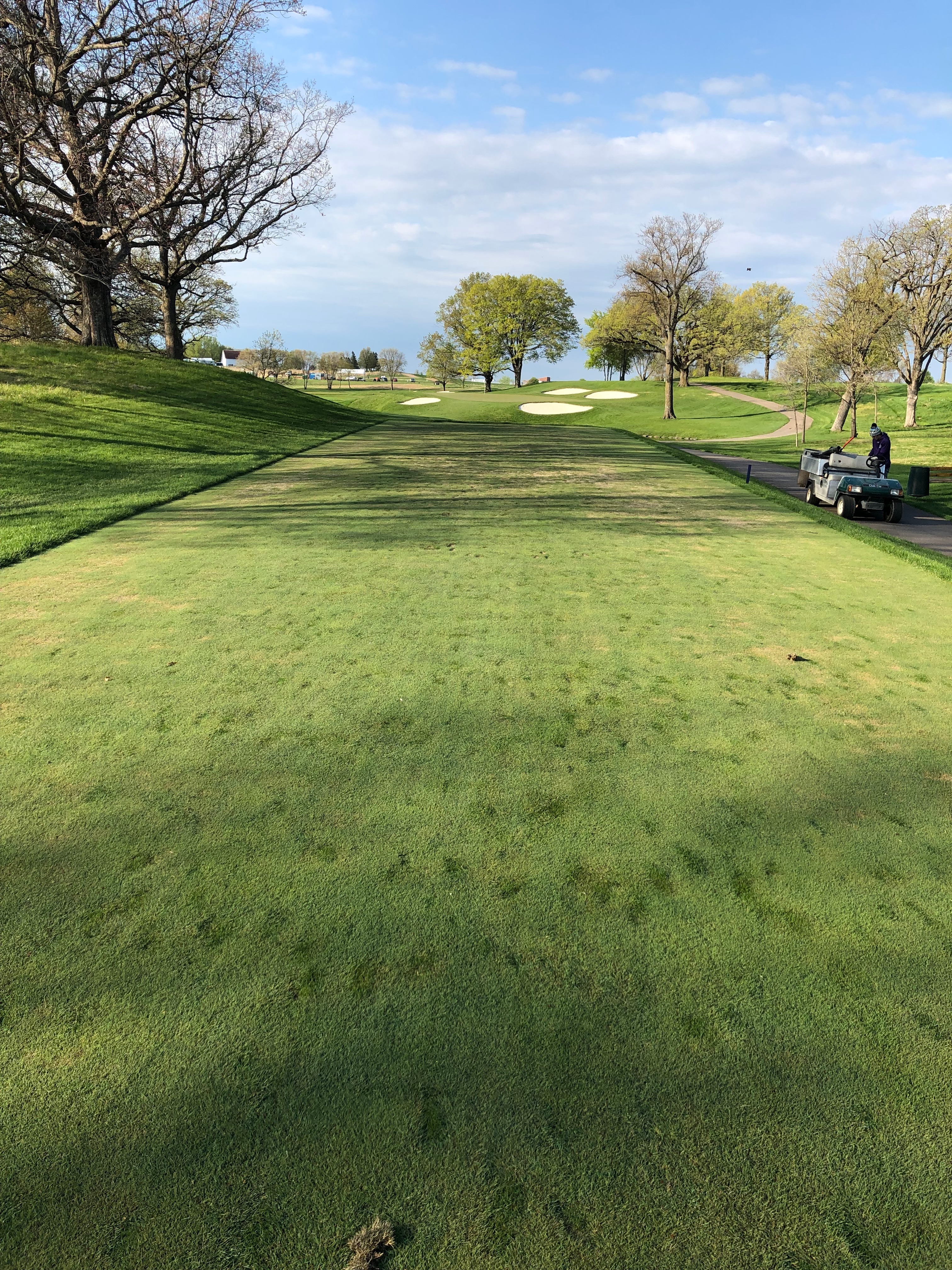 Despite the frustration of the spring weather, the course remains in excellent condition. The staff deserves high praise for their work both getting it and keeping it that way. As we prepare for the KPMG, we're finding comfort in the fact it will take place the same week as the Hazeltine Invite. In my six seasons at the Club, no matter how crummy the weather, we've always been able to have the course in great shape by the time of the Invite. I've no doubt we'll soon be there this season.
Just in case you were wondering; it's not just us. Everyone is waiting for it to warm up. This from the golf course superintendent at Stoneridge in Stillwater.
One of these days the grass will start growing and the Dryject holes will fill in. Spraying 0.25# N/m today with rain in the forecast tonight and some slightly warmer temps upcoming. #stillrollingsmooth #visualthing pic.twitter.com/EaSZDgg4P5

— Jeff Girard (@srgc_supt) May 21, 2019
If you have any questions or comments, please do not hesitate to reach out.
Sincerely,
Chris Tritabaugh
Golf Course Superintendent