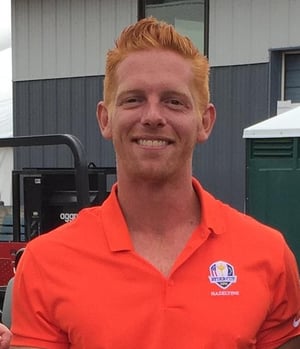 I'm proud to announce that Hazeltine Assistant Superintendent Mike Graves is the new Golf Course Superintendent at Faribault Golf and Country Club. Mike accepted the position a few weeks ago and started in this new role on Monday March 9th.
Mike, aptly nicknamed Red, was omnipresent on the Hazeltine turfgrass team through out my seven years. Known for his red hair-which was often being grown long so it could be donated to make wigs for cancer patients-Red was an incredibly valuable team member, filling many different roles. From spraying, to wood working, Red did a little bit of everything to make sure Hazeltine members experienced the very best, every day.
One of my favorite Red stories came in the days just before the Ryder Cup. One of Red's responsibilities was making the numerous sprayable applications to the golf course. These applications are rarely noticed by golfers, but the nutrients and plant protectants supplied with each application are vital to high performing turf. Given 50,000 daily spectators and millions more watching on HDTV at home, one can imagine how important the applications made just before the Ryder Cup would be. Red made the final fairway application on the Sunday prior to the event. The next morning, he said; "as I was making that app, I realized if I made a mistake, how many people were going to see it. It made me a little nervous." I laughed and told him I'd thought about it too, but I never doubted he'd be perfect. As they always were, Red's pre-Ryder Cup applications were perfect and helped to prime the canvas for an event none of us will ever forget.
The "bump-crates" used on the practice tees are a Red-original creation. We started talking about making them, and before I could even ask other courses for pictures, he'd finished his first version. Trial and error led to more and more refinement, until finally a product was complete that added a touch of class to our practice tee experience.
Red embodied Hazeltine's values every day; always striving to better himself and thus the Club and golf course. He had a never-ending commitment to making Hazeltine the best it could be. We'll all miss Red, and we wish him the best in his new venture. We know Red will take his work ethic and attitude and make Faribault Golf and Country Club the best it can be. They are lucky to have him, and we on the Hazeltine turfgrass staff were lucky to have worked with him.
Chris Tritabaugh
Golf Course Superintendent
Topics: Turfgrass Team