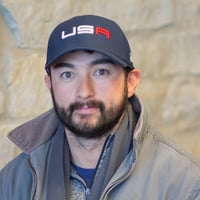 In the fall of 2012, there were many reasons I decided to pursue the Hazeltine job; right near the top of the list was the opportunity to work with Ryan Moy. I knew Ryan well before I came to Hazeltine, and during the preparations for my interviews, I got to know him even better. I distinctly remember walking the course the day before my first interview. Ryan was the liaison for the candidates as they looked to get access to the course and turfgrass center. We met at the turfgrass center as it was getting dark, he gave me a quick tour, then we stood and talked. I don't remember for how long the conversation went on, but I do know it was a seminal moment for both of us. At that moment, we both knew whether we worked together or not, this was going to be a life-long friendship. I've never thought of Ryan as an employee; colleague, teacher and friend are words far more apt. As much as he might say he's learned from me, I'd tell you I've learned at least as much from him.
One of the greatest satisfactions to anyone in a leadership role is seeing a member of their team receive an opportunity to practice their craft at the highest level. In a couple of weeks, Ryan will begin just such an adventure as the head groundskeeper for Allianz Field and Minnesota United Football Club. Following the Ryder Cup, one of the most frequent questions I received was/is: "When's Ryan going to move on?" If it had simply been about moving on, Ryan would have done so long ago. Knowing him as I do, it's never about just "moving on." His affinity for Hazeltine, and belief in what and how we do what we do led him to be choosy in the opportunities he pursued. Not just anything would do, and rightfully so. When the opportunity with MNUFC first came to light, Ryan did a tremendous amount of research. His thorough and thoughtful approach that has been so beneficial to Hazeltine over the years, led him to know this was a worthy opportunity. Once Ryan decided the opportunity was a worthy pursuit, those of us who know him best knew there was never a doubt of him getting the job. Ryan leaves Hazeltine not to "move on", but for a job worthy of his tremendous ability.
Over the past 12 years, Ryan has been an invaluable asset to Hazeltine National Golf Club. One of the best compliments I've heard given to Ryan came from a Hazeltine member involved in my hiring: "If we'd known Ryan then the way we know him now, we probably wouldn't have hired Chris." The comment was made in my presence, and I wasn't the least bit offended. During his time at Hazeltine, Ryan has served as a leader, teacher, mentor and friend to countless employees, me included. Ryan will leave a legacy here at Hazeltine that won't soon be forgotten and his body of work over the past 12 years will serve as inspiration to all those who follow.
When someone leaves a job, they should look back and ask: "Did I make the operation better? Will I be missed?" In Ryan's case the answer to both is an emphatic yes! He made us all better, and we will miss him a great deal.
Ryan's final day at Hazeltine will be September 14th.