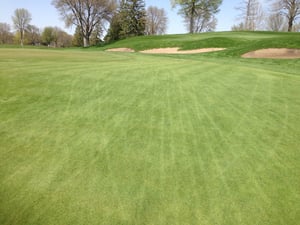 When I run across someone who's played golf as a guest at Hazeltine. One of the comments they almost always make is; "I love being able to take my push cart across the greens." Since my first season at Hazeltine, this is something we've asked our members to do in order to disperse traffic and wear across the entirety of the putting surface, rather than everyone making a path along the edge of the greens. The photo on the left, taken May 14th, 2013 is what got it all started. Note all the push cart tracks headed towards the edge of the seventh green. Many of my colleagues are surprised we allow this. My response; "It's never damaged turf, and I've never heard a complaint from a member." In fact, I'd wager that if we stopped allowing it, there'd be extreme disappointment, if not outrage.
While push carts across greens has been an unqualified success, as the season goes on, the weather heats up and the traffic compounds, it has tended to have a negative impact on some putting surfaces. Over the course of the season, you will occasionally see signage posted in the manner shown below. (I couldn't find "Push Cart" signs, so I went with "Trolleys".) On occasion, we'll post these signs at the front of putting surfaces that tend to suffer more from season-long traffic. The fifth green is a perfect example. The nature of the design naturally funnels traffic into a very tight space. When the signs are posted, we're asking our push-cart using members to take their carts in the direct of the signs and around the outside of the bunkers, rather than simply going trough the signs and along the edge of the putting surface. This will serve to give the putting surface and immediate perimeters an occasional break.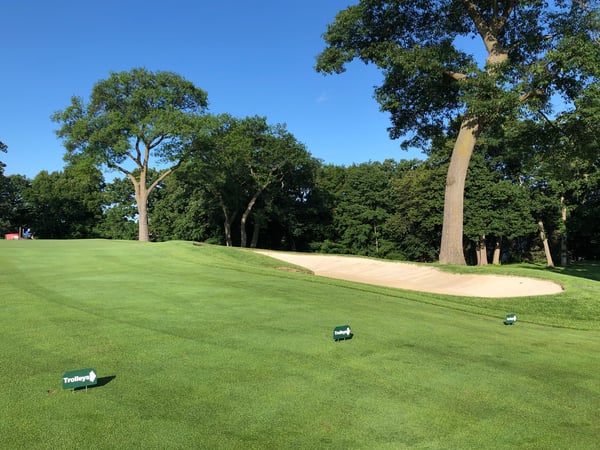 We won't post these signs all the time, nor will we post them during tournaments. We will also try an limit the number of holes posted to just two or three at a time. When you see this sign, know we're doing our best to keep the course in the best possible condition. Your help is much appreciated.
Trolley=Push Cart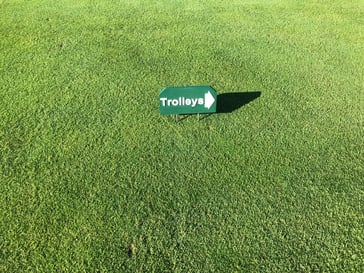 Topics: Golf Course Update, Turf