It's a question I get asked often working with junior golfers. Parents with young children want to know when they should start their son or daughter with lessons. My answer to that question now takes on new meaning to me as I have a 6 ½ year son who is getting into golf. Having that perspective now as a parent has changed my answer over the years and I have asked myself, at what age should kids start playing golf? After all, our children are all different with various interests and abilities.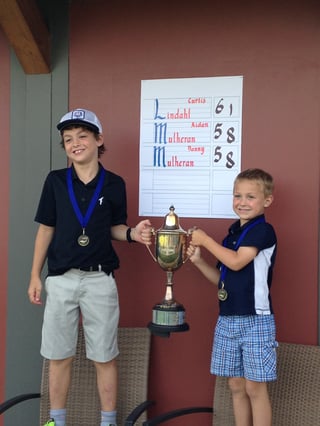 It really comes down to how much interest the junior golfer has. What I observed with my son is he shows a real interest because it's a way for him and me to spend time together. He knows that golf is what I do, and he wants to be a part of what Dad is doing! There is no greater feeling than having your son look up to you, and want to be like you. It is a big responsibility that I don't take lightly.
What I teach my son and any junior golfer under the age of 8-years old is basics. Here are a few things I try to do with my son and all juniors:
I want him to understand how to hold the golf club. Where he should stand to hit the shot, and how he should finish the swing.

Then it's about creating an environment for FUN! I play games with him, and other young juniors I teach, and I try to get them to mimic me. This is the best way I find teaching young golfers how to learn to hit a golf ball. I will demonstrate how to do what I am asking them to do, and then they have to copy me.

I keep the lesson to a half-hour unless they show they can handle an hour.
Lastly, make sure it's what they want to do, have them try golf, but don't push them if they don't seem interested.
Golf is a lifetime sport, if they don't seem interested now at a young age reintroduce them to it when they get into their teenage years.
Hazeltine National Golf Club is a private golf club located in Chaska, Minn., about 30 minutes southwest of downtown Minneapolis. The club opened in 1962 with a mission to build and maintain a golf course suitable for the conduct of national championships. Hazeltine is one of only two courses in the United States to have hosted the U.S. Open, PGA Championship, U.S. Senior Open, U.S. Women's Open, U.S. Amateur, and Ryder Cup. Hazeltine's meeting and event space, golf shop and specified services in the learning center are open to the public. More information about becoming a member at Hazeltine is available at www.hazeltinenational.com.
Topics: Golf Tips