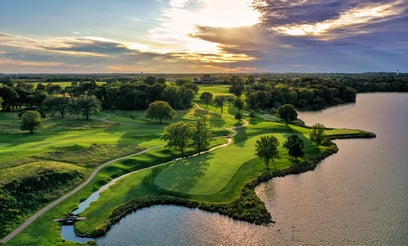 This blog has been updated to reflect the changes made as of January, 2023
For years, the private club membership model has largely gone unchanged. New members pay an initiation fee, then begin paying monthly dues along with a number of additional a la carte fees that can be dizzying. Food minimums, service charges, locker fees, practice range fees, capital fund fees, cart fees, and the list goes on and on. Not only can the monthly investment add up quickly, it can also make members feel like they are being "nickel and dimed."
As the needs of private club members evolve and the desire for simplicity in all aspects of our lives expands, it's important that the structure of clubs adapt as well. Beginning in 2019, Hazeltine National Golf Club set out to enhance its member experience and started evaluating its club operations, amenities, and facilities. Recognizing that people join a private club for social connection, Hazeltine sought ways to ensure "the club" is their member's favorite place to dine and spend their recreational time.
One monthly dues, many member benefits
Reimagining the member experience begins with re-evaluating how members engage with the club. When joining a club, a new member wants to feel welcomed and comfortable. It can be jarring when they are surprised by various fees while at the club and on the course. As Hazeltine sought ways to increase club engagement and reduce friction for its members, a number of enhancements to club fees have been introduced including:

No food and beverage minimums

No fees for lockers, driving range, bag storage, handicap index, etc.

Member preferred pricing in the golf shop and dining room

Complimentary non-alcoholic beverages everywhere at the club

Complimentary food while playing on the course

No service charges on dining
By eliminating many of the fees that most clubs impose on members, Hazeltine is able to consolidate these items and include them as part of the members' monthly dues. Not only does it provide members with a hassle-free billing process, it enhances their daily club experience.
Enhancements on the course and in the Clubhouse
The two main elements of any experience are the people and the environment. Hazeltine's reimagined fees and amenities have made it easier for members to connect with one another by upgrading areas where the club's community is developed.
On Course Enhancements
In November of 2021, Hazeltine began remodeling what has long been known as "the Beverage Hut." Members and their guests have been enjoying this elevated on-course food and beverage experience area since the remodel was completed in Spring of 2022. Many stating it has quickly become one of the best in the country. A chef is stationed providing hot items fresh off the grill for members and their guests. Here they can also enjoy additional snacks and non-alcoholic beverages at no cost to members.
New Member Patio
In 2020, renovations to the Hazeltine Banquet Patio were completed and in Fall of 2022 work began on a new and enhanced member patio. This space will create a larger, more inviting experience after a round of golf or cocktails in the evening with friends and family. It is set to be open for members to enjoy by Memorial Day of 2023. This outdoor space will be double the size of the original patio and feature expanded dining, a lounge area with numerous fire features, and a large communal fire table overlooking the 9th and 18th greens.
Practice Facility Enhancements
Hazeltine's already magnificent practice area received a subtle, and important makeover. In 2021, a new strip of outdoor practice turf was added to the driving range which will be used for non-member golf events and during the shoulder seasons when the natural turf is not available for use. In addition, the primary member practice tees at the north end of the driving range have been reconstructed and will be used on an alternating basis. These new surfaces and patterns of use will ensure the best possible practice conditions for our members for the foreseeable future.
Additionally, members and guests can now practice with the same quality of golf ball on the range that they play on the course. Hazeltine has upgraded its range balls to Titleist ProV1. Members simply practicing or taking golf lessons will also benefit from TrackMan technology that is in use in practice areas along with training aids to make practice sessions more productive.
A New View from the 16th Tee
In 2021, Hazeltine made one of the biggest golf course changes in recent history. Rees Jones Golf Course Design, led by Rees Jones, helped spearhead changes to Hazeltine's signature 16th hole. The tee boxes were elevated between 80-100 feet, making the panorama of the hole and its hazards thrilling for the world's greatest golfers and members alike. The end result is a better view and a longer carry to the fairway, allowing for more exposure to the wind, and a smaller landing zone. The changes have already set a more dramatic stage for member play, and it will give the contestants more to ponder in coming championships, including the 2024 U.S. Amateur Championship and the 2029 Ryder Cup Matches.
Actively engaging with our Mission
The Mission Statement of Hazeltine National Golf Club is to build and maintain a golf course suitable for the conduct of national championships, and yet it is also a club for our members to enjoy. Hazeltine National is committed to innovation and finding new ways to enhance the member experience and delight all those who visit the club. With key updates on the golf course and the clubhouse, Hazeltine is staying true to the core of its mission statement. It is also continuing to build for the future and exceed the expectations of its members. The enhancements to monthly dues will make it easier for members to leave their cares behind and escape to the club all year long.
Topics: Golf Course Update