Former College Golfer Shines in Business and Golf
Golf is an individual sport, but it's also very good for making friends. On the driving
range, at the first tee, or in the clubhouse, you might just meet your next future playing partner. At Hazeltine, you never know who you might see—it could be Ryder Cup captain Davis Love III doing some prep work for the 2016 Matches, or even someone you've seen in the club's winner circle, like reigning Men's Senior Champion Mark Knutson. His connection to Hazeltine goes back to 1970, his link to some of the game's greats goes back to college, and his love of the game traces back to his first swings with his father.
Lifelong Golfer
Knutson, 58, has been playing golf since he was 12 years old in Albert Lea, and he comes from an accomplished golf family. His father was Alfred Jarvis Knutson, former captain of the University of Minnesota golf team during the 1940s – right before the legendary Les Bolstad took over.
"Growing up in Albert Lea is where I caught the bug for the game," Mark Knutson said. "Playing with my dad and caddying for him in tournaments. That was really fun. That is where I cut my teeth in golf."
He played high school golf in Albert Lea, and then played junior college golf at McLennan Community College in Waco, Texas, on a team that finished second in nationals the two years he was there. He then attended TCU in Fort Worth, playing Colonial for his home course and winning a couple of tournaments.
Facing Future Pros
"It was a great experience," Knutson said. "I was the oldest on the team, so I got a chance to play every week. I played against (future PGA stars) Fred Couples, Payne Stewart, Hal Sutton and Bob Tway at tournaments. I figured out that there were people who could play golf and people who were just good at it. I was more in the 'just good at it' category. Seeing excellence before my eyes, it didn't take me long to figure out that I should probably pay attention in school."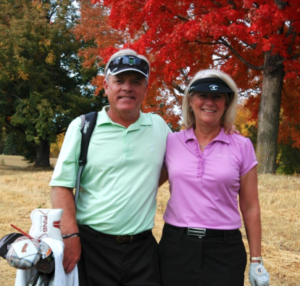 Knutson turned pro and played on the now defunct Longhorn mini-tour and then returned to Minnesota as an assistant pro at Rochester CC. Deciding he liked to play golf rather than work at it, he went into banking, and 34 years later is a successful director at Abbot Downing, a wealth management group inside Wells Fargo.
Mark met his wife Terri while in Rochester and the couple now resides in Eden Prairie. Though Terri wasn't a golfer, she has adopted Hazeltine. She has a lot of friends at the club and was president of the After Hours League one year.
At Home at Hazeltine
Mark Knutson had always liked playing at Hazeltine. He played his first round here with his father – two weeks after the 1970 U.S. Open – and joined the club in 2001 (becoming a full member in 2004). These days, he enjoys spending time at the practice facility, which he considers top notch, works out in the indoor facility during the offseason, and schedules a couple lessons each year with pro Mike Barge.
"I try to practice as much as I can," he says, "because I like that better than playing golf—it's less stressful."
Mark holds three Hazeltine Senior Men's Championships, a couple Heffelfinger titles, and the 2010 Club Championship. Knutson also won the 2012 Minnesota State Senior Amateur Championship, but besides the challenges of the course, he also likes the camaraderie at Hazeltine. "The club has men's mixers on the first Saturday of every month," he says. "I played in those religiously for two or three years and that was phenomenal. I got to meet so many people, and it was just fun. Golf is the connecter out there."
Knutson has volunteered for big events in the past at Hazeltine and hopes to do the same for the Ryder Cup. He went to Gleneagles in Scotland last fall for the Ryder Cup Matches, where he met up with other Hazeltine members. He says it will be a peak event in his golf life when the Matches come to his home course in 2016. "That will be really cool. It's at my home course. It doesn't get any better than that!"
Knutson doesn't do a lot of business on the course, saying he'd rather use the game as his getaway from work. But he is out at Hazeltine whenever he can.
"I can play Hazeltine every day and it's never the same," he says. "People who don't play don't understand that. But that golf course has just got everything. I haven't played another golf course that demands every shot. On every hole, there is no shot you can relax on. Being under that pressure at Hazeltine, let's just say your game travels well."
Hazeltine National Golf Club is a private golf club located in Chaska, Minn., about 30 minutes southwest of downtown Minneapolis. The club opened in 1962 with a mission to build and maintain a golf course suitable for the conduct of national championships. Hazeltine is one of only two courses in the United States to have hosted the U.S. Open, PGA Championship, U.S. Senior Open, U.S. Women's Open, U.S. Amateur, and Ryder Cup. Hazeltine's meeting and event space, golf shop and specified services in the learning center are open to the public. More information about becoming a member at Hazeltine is available at www.hazeltinenational.com.
Topics: Member Stories