On each approach shot that I play, as well as on some drives, I make an imaginary line that I do not want the ball to cross. I know if the ball crosses the line, my chances of making par will be significantly less.
We often hear TV commentators say, "the player is short-sided." What does that mean? It means the player has missed the green on the side that leaves very little green between the player and the hole. Not having a lot of green between you and the hole means you have to play a very precise and high-lofted pitch shot to recover and make par. Knowing this, I do my very best not to leave myself in these situations, which is exactly why I create a line for each shot.
These short-sided situations most often occur when a hole is located toward the perimeter of a green. During the course of the round there will likely be 6 – 8 hole locations that are toward the center of the green. In those situations I play more aggressively, knowing that I have room to miss on either side of the hole and still recover rather easily. When the holes are tucked toward the perimeter, I am more careful and play toward a larger target.
Short-sided Example
To illustrate what I mean by this, please look at this hole location sheet. The areas shaded in green represent where I aim to give myself the best chance to make par. The areas shaded in pink represent the short-sided areas, or even hazards, that will make it difficult for me to make par. Let's not forget our course architect, Robert Trent Jones Sr., is famously known for creating courses where par-making would be difficult. To me, that is especially true at Hazeltine if you miss a green in the wrong place.
How aggressively I play my approach shot depends on two factors: where is the hole located and what club I am hitting. If I am hitting anything less than a pitching wedge, I will take dead aim no matter the hole location. If I am hitting anything between a 6 and 9 iron, I will be slightly less aggressive. And if I am hitting anything above a 5 iron, I will choose a large target (likely the center of the green) and look to make par.
An Exercise for the Range
The next time you are on the driving range, try this: Pick a target and practice with your 7 iron. Pick one side of the target to aim for, either left or right. Hit 5 shots and see if you can hit them all to the side that you are aiming, while trying to come as close to the target as you can. If you are able to master this concept, you will start racking up easy pars in no time.
Most players just aim for a target on the range, missing on both sides of the target. While there is no consequence for missing on either side of the target on the range, there is on the course when a hole is placed just 5 – 6 paces off the edge of the green and you miss on the short side. So, prepare your mind for this on the range first.
Put it into Play
Once on the course, create a line on each approach shot and keep track of how many times you miss on the wrong side.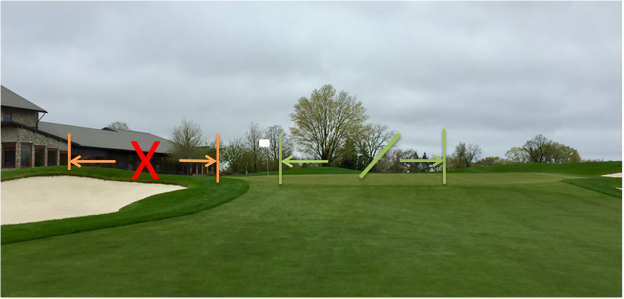 See if you can start to reduce that original number over the course of the season and I would be willing to bet your scores will come down. Happy hunting!
If you missed the first part of Chandler's Become a Better Golfer blog series, start here: Set Goals & Make a Plan and Focus on the Fundamentals.
---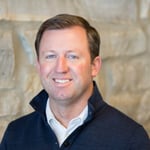 Chandler Withington is Hazeltine's Head Golf Professional. Prior to leading golf operations at Hazeltine, Withington was on the golf staff of Merion, Seminole Golf Club, and other highly regarded clubs. Withington is a historian of the game, and values the life lessons learned on the course.
Hazeltine National Golf Club is a private golf club located in Chaska, Minn., about 30 minutes southwest of downtown Minneapolis. The club opened in 1962 with a mission to build and maintain a golf course suitable for the conduct of national championships. Hazeltine is one of only two courses in the United States to have hosted the U.S. Open, PGA Championship, U.S. Senior Open, U.S. Women's Open, U.S. Amateur, and Ryder Cup. Hazeltine's meeting and event space, golf shop and specified services in the learning center are open to the public. More information about becoming a member at Hazeltine is available at www.hazeltinenational.com.
Topics: Golf Tips