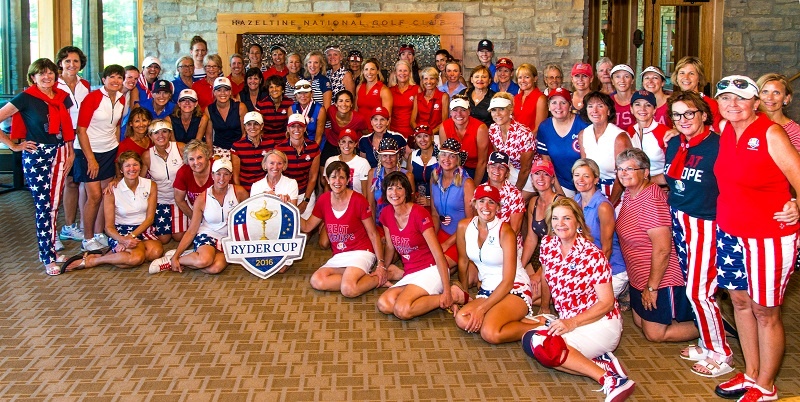 Comedian Groucho Marx once said, "I refuse to join any club that would have me as a member." It's hard to say whether that decades-old quote said more about Groucho's personality or the exclusivity of clubs, but either way, it doesn't really apply today.
Contrary to conventional wisdom, joining a country club should no longer raise the concerns it has in the past. In fact, with more amenities, lower initiation fees and dues, and better service than ever, there are many reasons that golf club memberships make sense – which is why we are busting some popular country club myths.
Setting the Record Straight
Some of the most common misconceptions about country clubs are:
The "Personality" Myth: Members are stuffy and standoffish, and it's hard to make friends.
The "Ability" Myth: You have to be a low-handicap golfer to belong to a high-end golf club like Hazeltine National (where the pros compete).
The "Economics" Myth: The cost of membership is hard to justify.
These perceptions aren't always justified, and Lukas Dreger, Hazeltine's Director of Member Engagement, offers clarity on some of those country club myths to set the record straight. He says it's often not a question of whether or not club life is right for you – it's more about finding the right fit.
The "Personality" Myth
Personality matters. "Different clubs have different personalities," Dreger says in response to the claim that country club members can be off-putting. "Some are more formal, while others, like Hazeltine, are more modern and friendly. At Hazeltine, with its rich history and traditions, we've built our community around the shared passion for golf.
"We have an open tee-sheet, which means if you see a tee time available, you're welcome to jump in. You don't have to know the other golfers, and you don't have to book your own foursome. It's a great way to meet other members or to mix up your usual game."
At a public course, you might roll the dice for a round and end up with a great pairing. But as a member of a private club, chances are favorable that if a foursome goes well, you will play together repeatedly. According to Dreger, many members forge friendships on private club fairways. In fact, the club environment actively promotes relationship-building.
"With the championship pedigree of Hazeltine, people may be intimidated," he says. "But what we hear over and over again from new members is just how welcoming and down-to-earth our Hazeltine members are. We encourage new members to play in member events, and even help them find a partner. We also have frequent leagues, mixers, and other golf and social events that provide opportunities to meet other members. We see new friendships strike up all the time and decades-long friendships deepen over their shared love of the game."
The "Ability" Myth
All abilities are welcome. A novice golfer might feel intimidated by the high level of play at a golf club – particularly at a storied championship course like Hazeltine. Home to U.S. Opens, PGA Championships, and the 2016 Ryder Cup, Hazeltine is a tough test for the pros, let alone the members. So it's easy to surmise that many at Hazeltine can go low. But that shouldn't be a reason not to join.
"There's a commitment at Hazeltine to help each individual golfer grow their golf game, whether you're new to the game or are working to break 70," Dreger says. "It's about enjoying the sport and the people you're golfing with. For some people, that means becoming more competitive and lowering your handicap. For others, it's about managing the game well enough to enjoy an outing with your family or friends. Hazeltine offers a wide variety of golf lessons, clinics, leagues, and other golf programs to fit the wide array of golf abilities of our membership."
The "Economics" Myth
The value of a golf club membership varies for everyone. Of course, joining a club requires a financial commitment, but if you look past the dollar-to-dollar comparison, there are plenty of reasons to value a club membership.
A golf club membership is an investment in doing something you love as often as you love to do it. If you've tried a public course, you've likely experienced the frustration of trying to find the perfect tee time (especially in golf-crazed Minnesota). Club membership ensures you have access to your favorite course just about whenever you like.
Many golfers join golf clubs because they love the game and want to be close to it. Golf club memberships provide people an opportunity to spend time with family and friends, conduct business networking, and create lifelong friendships. Many passionate golfers also want their children to play the game, and a golf club provides their family access to excellent facilities and instruction. It's really difficult to put a price tag on relationships and the development of a lifelong skill.
"There are so many ways to justify the cost of a golf membership if it's something you enjoy," Dreger says. "So many of the benefits of membership are truly priceless."
You can be like Groucho Marx and manufacture a reason to stay away from a great golf club. Or you can realize you're missing some of the best golf, greatest times, and most interesting relationships in your life and consider becoming a part of the Hazeltine family.
Hazeltine National Golf Club is a private golf club located in Chaska, Minn., about 30 minutes southwest of downtown Minneapolis. The club opened in 1962 with a mission to build and maintain a golf course suitable for the conduct of national championships. Hazeltine is one of only two courses in the United States to have hosted the U.S. Open, PGA Championship, U.S. Senior Open, U.S. Women's Open, KPMG Women's PGA Championship, U.S. Amateur, and Ryder Cup. Hazeltine's meeting and event spaces, and golf shop are open to the public. More information about becoming a member at Hazeltine is available at www.hazeltinenational.com.
Topics: Golf Tips, Member Stories, Membership