If you've ever wondered how one private club distinguishes itself from all others, you need not look further than its membership.
At Hazeltine National, members are the club; and together, they create the foundation of a strong community.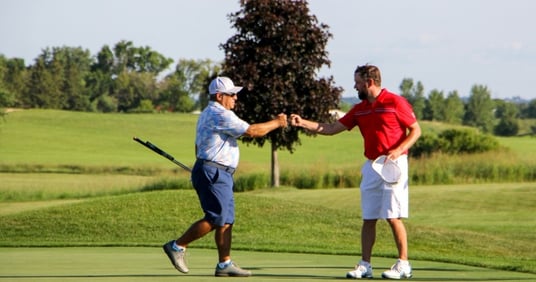 "We have a tremendous asset in our championship golf course. But at the end of the day, it's our membership that brings that wonderful golf course to life and makes it special," says Lukas Dreger, Director of Membership Engagement at Hazeltine National.
"It really comes down to having a lot of great people here, having a great culture, people who really support the mission statement," he adds. "When you have a lot of like-minded individuals who come in and support that, it really helps that culture and community together."
There's no mistaking the storied history which Hazeltine has written since its inception in 1962. Totton Heffelfinger's vision was to create a golf club to host major championships–for a membership that shares a passion for the game.
In the 60-plus years since the first ball was teed up, Hazeltine has provided the backdrop for two U.S. Opens, two Women's U.S. Opens, and two PGA Championships.
A track record underscored with return visits from some of golf's most prestigious events doesn't come by accident.
"These championships would not be successful without our members' efforts," says Dreger. "It's a big reason why we have such strong relationships with the PGA and the USGA, who want to come back time in and time out for repeated events."
And it's why in 2029, Hazeltine will become the first club in U.S. history to host the Ryder Cup for the second time, delivering an encore of its spectacular 2016 event seen by millions around the world.
Celebrating a Legacy
That level of accomplishment certainly is reason to celebrate for the community at Hazeltine.
"For our 60th anniversary, we really focused in on our heritage," says Dreger. "We brought a lot of archives out of our Heritage Room and displayed them throughout the clubhouse so people could go take a closer look."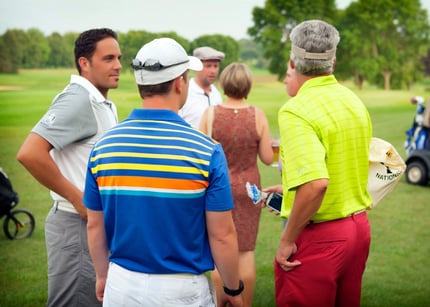 The event was a trip down memory lane for longtime members, while those more recent to Hazeltine were seeing the club's history on display for the first time.
"That was a really big event that really bridged the gap from somebody who's been here for 55 years, all the way to some people who had been at the club for a few weeks," says Dreger.
Regardless of tenure, everyone enjoyed the shared experience of looking back on the moments that made Hazeltine what it is today.
"So, when we talk about community, we talk really closely with culture. And our culture really stems from our heritage here. So we try to bring in people who support that."
Enjoying the Present
Between Hazeltine's illustrious past—and much-anticipated future—lies a present, waiting for members to enjoy with one another.
Accompanying the 60th Anniversary celebration are myriad events for the member community.
There's the Fischer Cup tournament in honor of one of Hazeltine's founders Bob Fischer, with both a men's and women's event and requisite parties.
The club community has come together for the longstanding Club Haze theme and the newly inspired Made in Minnesota, 80s Night, and Nashville Nights.
"Everyone embraces it, everyone dresses in costume or just supports that theme," says Dreger. "Members will be there until one o'clock in the morning, talking, socializing, telling stories, and making new friends."
Hazeltine also strengthens its bonds of community with a winter speaker series, wine dinners, and numerous social events like Mother's Day brunch, Santa brunch, and Easter brunch.
A New Space for Members
Hazeltine has a new destination for members to gather, relax, and most importantly, share in the communal spirit of the club.
"The new patio is something that's really going to help build that sense of community," says Dreger.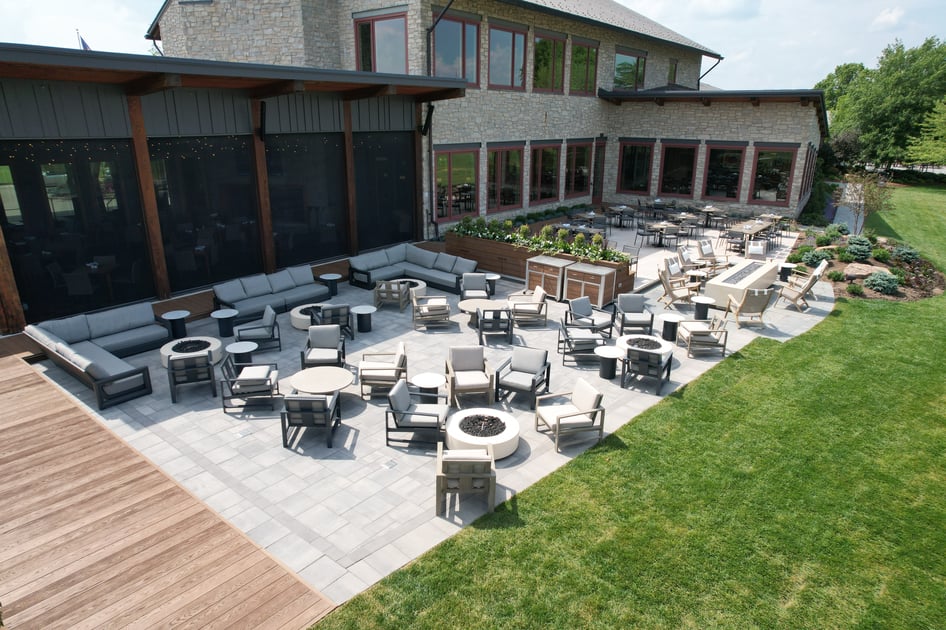 The timing for the new space could not be better, with club usage at an all-time high in recent years.
"We've been focusing in on the patio for a few years and now it's really taking shape," says Dreger. "But what's going to be really nice is it's going to be sectioned off into two areas. One will be for dining and the other will be a lounge area."
The club's newest outdoor attraction features fire pits, with soft seating. Dreger says the food and beverage service will offer a full complement of dining menus on the formal side, and a small plates menu on the lounge side.
"It will be a wonderful place for community gathering," he says. "People bouncing from chair to chair, mingling with each other."
The new patio will be the perfect complement to the member dining room, as well as the popular bar area, made from reclaimed wood from the original clubhouse.
"When we upgraded the clubhouse, we repurposed a lot of the old building and we were able to save that history. So that's always a good talking point to kind of bring back our culture into the conversation."
It All Starts with Golf
Of course, there is one space at Hazeltine which stands alone, providing the ideal setting to bring members together for the past 60 years and counting.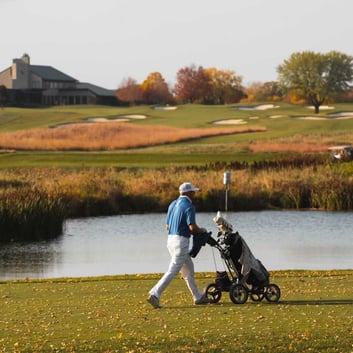 "It's the golf course and the community that we build out there," says Dreger. "The people who join Hazeltine, regardless of their skill or ability, have one thing in common and that's they love golf; they're passionate about golf."
As a matter of policy, Hazeltine holds an open tee sheet, which stipulates that if there is an opening, a member may join a group or individual and play along.
"They have the expectation that four hours later, they're going to have a new friend," says Dreger. "And that's truly what happens here. And that's why our membership is so inclusive– because they all have that common bond of golf.
"Having that community out on the golf course, through our events, through our daily play, all the way through our leagues, our clinics, our junior programs. Everything really starts out on the golf course."
Topics: Membership