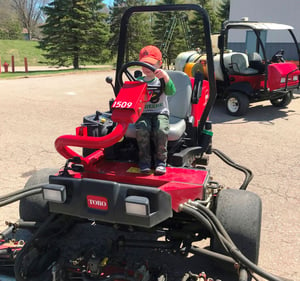 It shouldn't surprise you to hear that Hazeltine National is a place where dreams turn into reality. Whether it's a world-famous touring pro playing in his first Ryder Cup, or a member's guest playing at a true championship course for the first time, we are used to hearing that a visit to Hazeltine made somebody's childhood dreams come true. But Johnny Bowlsby's story is unusual, because he is still a child (almost four years old, to be exact), and his dream came true because of our turf crew.
Who's Johnny?
Johnny is like a lot of little boys. He loves tractors, trucks, and just about any kind of heavy machinery. "He just loves all things that go," says his mom, Ana. "He has toy tractors, excavators, and I'm staring at a toy cement mixer right now."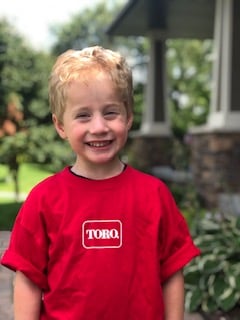 Yet while most kids settle for Tonka Trucks, Johnny's love goes deeper, especially for all things John Deere. "He has a couple of John Deere shirts, and his favorite color is John Deere green," she says. "He wants green shoes, anything like that."
Why John Deere? His father Jake's family is from Iowa, so he fell in love at the John Deere tour in Waterloo, and one of his uncles is a farmer who gives him tractor rides, too.
"I think he associates tractors with fun," Ana explains. "He even receives John Deere shirts for presents, and he just loves them."
Johnny's Family
Johnny's family belongs to Hazeltine, but he's a little young to spend much time on the course. So is sister Sara, who's two years older.
"They do a nice golf clinic for little kids," Ana says. "They learn how to swing a club and learn how to hit a chip shot, things like that. They get to go and have fun and they learn to associate fun with golf, which I think is important. It was four Fridays in July, and that was just perfect."
Her goal is for the family to golf together in the future, but for now, almost all of the family's golf is played by Dad, Jake Bowlsby.
"This is what he loves, so I say please enjoy it and use it to its fullest," Ana says. "He usually plays with a regular group on Saturdays and then as he can throughout the week, as work allows."
History Lesson
What does all this have to do with Johnny and tractors?
For starters, Jake and Ana first met when they were working at the same golf course. "I was a cart girl and he was working on the maintenance crew," she explains. "We were in college. I went to Oklahoma State. He went to Iowa. I was working a summer job and we had a lot of fun. That was a great summer."
Fourteen years later, they have been married for nine, members of Hazeltine for six, and Jake jumped when he saw an interesting event listed on the club calendar.
Tractor Party
"He was very excited to go to the truck party we read about," says Ana. "He was thinking back to when he was working maintenance."
The Turf Team held a "meet the members" event near their equipment shed, and Johnny was even more excited than his dad. Johnny woke up his parents early that morning (4 AM, to be exact!), all dressed in his John Deere gear and ready to go see the tractors and meet the team.
"He just was so excited, he couldn't stop getting on and off of the 10 or 12 tractors and mowers they brought out."
Not only did they let him see the tractors, but they took him for a ride, and a whole lot more.
"He got to go explore all the other parts of the maintenance shed. He was so thrilled and they were so helpful," Ana says.
Golf Course Superintendent Chris Tritabaugh even went back to his office and found a plastic tractor and other Toro stuff that the star-struck boy might enjoy.
"He said 'you love trucks, you love tractors, here are some other things for you,' and Johnny was just ecstatic – just beside himself with joy," she says. "It was the highlight of his life. Absolutely!"
A Tee for Toro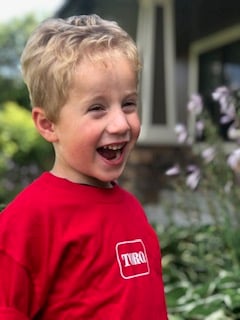 If it had all ended there, Johnny would have been happy. Hazeltine had already become his own personal "Field of Dreams," but the Turf Team went one step further.
Since they use all Toro equipment, they got Johnny a present. They recently left a little Toro T-shirt in Jake's locker.
"The turf guys said how fun it was to watch Johnny be so excited about lawn mowers and tractors and things like that," Ana explains. "The shirt was really a wonderful surprise. He just loves it."
And he can wear it with pride the next time he visits his new friends on the Turf Team.
Topics: Member Stories, Turf