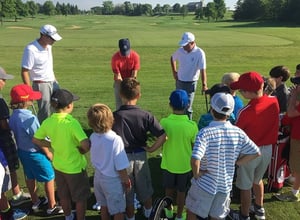 Ambassadors for the game of golf will quickly tell you that golf is a game for life. It can be learned at a young age and played well into your golden years. More importantly, it's a game that teaches players of all ages valuable life lessons. The tricky part for any golf-loving parent is finding a way to get your kids to fall in love with the game so they can also embrace it for a lifetime.
Mike Barge, Director of Instruction at Hazeltine National Golf Club, was a North Dakota Junior Amateur and State High School champion. He's a 2019 inductee into the Minnesota Golf Hall of Fame and is among GolfDigest's Top Instructors in Minnesota. Over his career, Barge has mentored and coached numerous Minnesota state golf champions. He says there are some basic factors to consider when teaching your child to play golf.
Make it fun – and know when it's not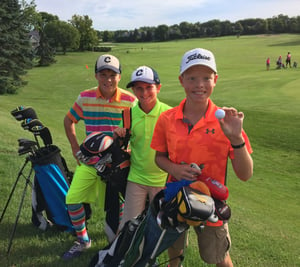 Golf is a fun game for kids, but it can also be frustrating, just as it is for parents. Remember that just because you grew up playing golf a certain way doesn't mean that the same approach will work for your kids.
"Starting your child in golf, or any sport, should emphasize fun," Barge says. "My advice to parents is to be as involved as you'd like, and always be encouraging. Boredom can creep in quickly, so try to leave the course before they are ready to go – with a promise to return soon."
Be patient
Most golfers will tell you that learning the game requires tremendous patience – patience many children don't develop right away – and a parent's patience may also be tested when it comes to getting their child interested in it. That's why Barge warns against trying to immerse kids in the game too early.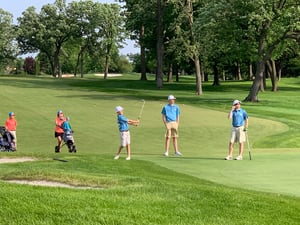 "I would not get into anything but basic fundamentals until [they're] at least 10-11 years old," Barge explains. "Introduce them to the golf course, but learning to play can take place a few years later."
Remember that it's healthy for kids to try different sports so they can identify the activities they enjoy and those that are not the right fit. Besides, Barge is a believer that diversifying activities will make your child a better player. "Golf can be difficult at any age, but if athletic movement, like running, jumping, catching, and throwing is learned early, it helps immensely with learning golf," he says.
Avoid fatigue
Barge has witnessed overeager parents who push their children too hard toward golf hoping their child will become the next Tiger Woods. Usually, that only leads to disappointment and burnout – both mentally and physically.
"Playing one sport for 12 months with no rest or recovery time leads to most overuse injuries," explains Barge who was a multi-sport athlete growing up. He cites the recommendations of noted orthopedic surgeon Dr. James Andrews, one of the founding members of the American Sports Medicine Institute, who has been at the forefront of educating parents about the dangers of specializing in youth sports.
Barge is quick to echo the words of Andrews, who believes most parents and coaches are doing more harm than good by having their children specialize and play year-round in the same sport.
"Youth cannot train children like professional athletes when their bodies are in a development stage and not risk harm," says Barge.
The best way to teach your children to play golf – and love it – is to take it slow. Even while you devote time and energy to teaching them, encourage their interests outside of golf to avoid fatigue. With proper motivation and the right opportunities, they'll gradually reveal their interest.
To that end, you and your child might find it helpful to join a fun junior golf program with PGA Professionals. In a group of kids their age and skill level, your child will not only learn the fundamentals of the game, but they'll also build common interests and find reasons to hit the links for years to come.
Topics: Golf Tips