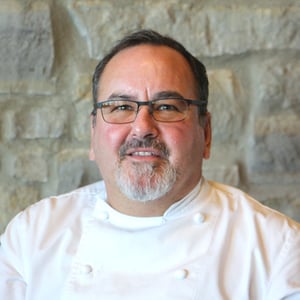 Chaska, MN – Hazeltine is pleased to announce that Chef Michael Patton has recently been selected as the Executive Chef at Hazeltine National Golf Club, site of many of the greatest major championships in golf. Chef Patton began his career 30 years ago by graduating top of his class at the prestigious Culinary Institute of America in Hyde Park, New York. As part of their newly adopted strategic initiatives, Hazeltine is taking their culinary program to new levels, and Chef Patton is the perfect candidate to help create this experience.
"Hiring Michael as our Executive Chef takes us to another level of talent. Under Michael's leadership we think Hazeltine National will develop into one of the best culinary experiences on this side of the Twin Cities" said Bob Fafinski, President of Hazeltine National. "Not only will our golf and social members absolutely love the dining experience but we also expect individuals and corporate customers that book weddings and banquets at Hazeltine will be impressed."
Upon graduating in 1989 from The C.I.A., he began his career at the Mansion on Turtle Creek and The French Room at The Adolphus Hotel. Chef Patton relocated to Washington D.C. and joined the nationally acclaimed 1789 Restaurant as Executive Chef. During this tenure, in addition to serving international and national dignitaries and celebrities, he also had the distinct honor to serve President Clinton in The White House and to provide private dining for the Presidential Inauguration event.
From 1995 to 2000, Michael moved into the resort/hospitality sector as an Executive Sous Chef in Los Angeles at the Four Seasons Hotel and then the Beverly Hills Hotel, where he gained experience in 5-star luxury hotel operations. Michael made a significant move to become Executive Chef of Banquets/Special Events for The Bellagio Hotel in Las Vegas routinely hosting events with over 5,000 persons.
Following the successful opening of The Bacara Resort in Santa Barbara, Michael moved to Sonoma where he landed the Executive Chef position at Brix Restaurant. Working with an organic garden concept long before it became "fashionable," Michael innovated the estate-grown foods program and put Brix at the top of Napa Valley's Sunday brunch line-up.
In 2002, Chef Patton entered the private club environment to pursue his passion for highly personalized culinary experiences to a discerning membership where relationship building was at the core of its programs. He was appointed Executive Chef at Shady Canyon Golf Club during the pre-opening phase, overseeing all staff selection, event planning, culinary concepts, and five unique dining outlets.
After guiding Shady Canyon through its first two years, Michael relocated to Scottsdale, Arizona, to assume the pre-opening Executive Chef position at the prestigious Silverleaf Club. For the past 14 years, Michael provided excellent culinary concepts, leadership, and direction.
In addition to this role, Michael served as the corporate culinary consultant for other company-owned lifestyle communities as they launched new projects and sought to enhance existing culinary programs.
General Manager Eric Rule explains the need for highly qualified professionals in this day and age. "I can remember times in this industry where I have witnessed the Chef throwing the pots and pans. That doesn't happen with today's professional Chefs. The larger concerns of personnel management, sanitation, creativity, and member interaction are just as important as culinary skills. The key to having a successful food and beverage operation in a club is a very high-level member experience every time a member is at the club. The Chef at a club is an integral part of creating the experience."
Michael is excited about relocating to the Twin Cities and joining Hazeltine as our Executive Chef. His wife Ann and son Reyn will join him as school permits.
Topics: Member Stories