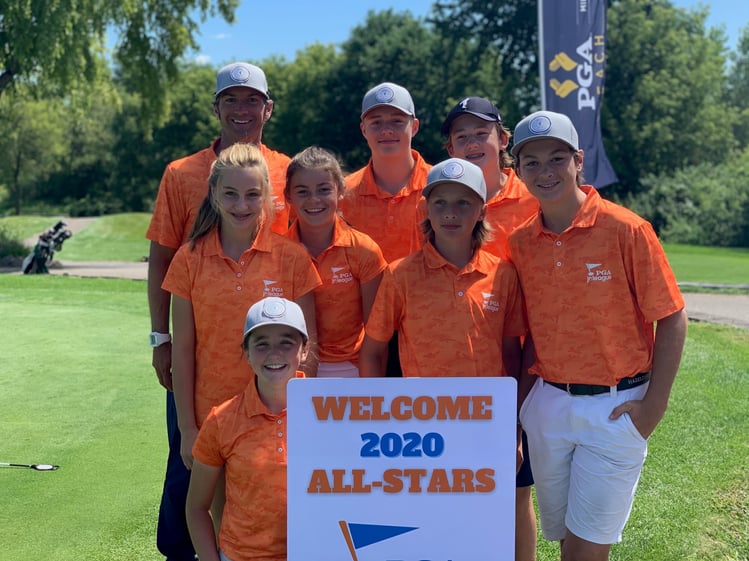 If you're an avid golfer, you likely dream of the day when your child will join you on the course for the first time, marking the growth of their love of the game. Perhaps you envision this growing into a tradition the two of you could enjoy for decades. But when should they start, and what are the best ways to help them begin on the right foot?
This question has been even more top of mind over the last year than most as many families looked to the golf course as a place to spend quality time together. As a result, we have recently seen a record increase in the number of young golfers heading to the course for the first time.
Of course, the answer to this question is not an exact number; instead, deciding on the best timing depends on your child's unique interests and abilities. Every child is different. That said, there are several points to bear in mind as you start kindling your child's interest in the game.
Remember playing golf begins with "play"
Children are more likely to become excited about golf if they associate the activity with fun, joy, family, and play. You can do that by sharing with them the aspects that inspire your love for the game, what first attracted you to the sport, and by sharing any happy memories you have of playing when you were young. Children are perceptive and these stories can go a long way in sparking their interest.
When you are out on the course, remember that it's vital to communicate to them that there's more to the game than winning or having perfect technique. Having fun and keeping your child engaged should be the essential goal.
Start with basic golf technique
Technically, a child can begin playing golf as soon as they can carry a club and are coordinated enough to putt a ball. Teaching a child how to hold the golf club correctly, where to stand to hit the shot, and how to finish the swing are good steps to cover first. Once you've explained these basics, have the child copy your movement on the course or range. Games like "Monkey See, Monkey Do" and "Simon Says" illustrate how much kids love the challenge of mimicking others. Games like these are some of the best ways to teach young golfers how to hit a golf ball.
Another way to help them feel confident and excited early on is to make sure they understand what it means to be a golfer -- that means inside and out. For example, "dressing the part" of a golfer might mean buying them their first polo, sun hat, or golf shoes. Even more importantly, it's explaining that being a good golfer starts with one's character -- showing respect, sportsmanship, and etiquette. These are the core tenets of this game.
Be mindful of the attention span of your young golfer
When thinking about how long to focus on learning golf basics, it's better to keep outings under half an hour when you begin. A rule from old parenting lore suggests setting expectations for a child's attention span to be around four minutes of attention multiplied by year of life. That is to say, a five-year-old has about a twenty-minute attention span, whereas a ten-year-old can focus for about forty minutes, give or take.
Start golf lessons for kids to build skills and confidence
Once a child has self-identified that they are interested and want to improve, that's when golf lessons are worth proposing. Junior golf camps are an excellent way to introduce the game of golf to kids and build in more technical learnings as they get older.
An added benefit of lessons, group lessons, and camps is that kids can build friendships with their peers and begin making golf part of their own identity. Once a child is ready, investing in skill-building can build on their foundational love of the game a sense of confidence and satisfaction.
And remember, golf is a lifetime sport. If they don't seem interested now at a young age, don't force it. Instead, try reintroducing them to it when they get into their teenage years.
Raise your game at Hazeltine National
Hazeltine is a private golf club located in Chaska, Minn., about 30 minutes southwest of downtown Minneapolis. The club opened in 1962 with a mission to build and maintain a golf course suitable for the conduct of national championships. Hazeltine is one of only two courses in the United States to have hosted the U.S. Open, PGA Championship, U.S. Senior Open, U.S. Women's Open, U.S. Amateur, and Ryder Cup. Hazeltine's meeting and event space, Golf Shop, and specified services in the learning center are open to the public. More information about becoming a member at Hazeltine is available at www.hazeltinenational.com.


Topics: Golf Tips, Member Stories