In the past week, I've received a couple versions of the question; "Why do some of the greens have a brown tinge? Are they doing ok in this heat?" The short answers are: "Due to the manner in which we manage the putting surfaces, a brown tinge during hot dry weather is completely normal." and "Yes, they are doing just fine."
The decision Hazeltine National members made to rebuild and re-grass the putting surfaces is a decision currently being made by many northern clubs. With little to no exception, the reasons northern clubs decide to install bentgrass are
more consistent conditions
ability to use fewer inputs
better tolerance and survivability when exposed to extreme weather conditions.
Throughout my career as a superintendent, I've written and spoken of the need for superintendents to "take advantage of one's advantage." Having bentgrass playing surfaces is indeed a big advantage, and it's one we always look to take advantage of in our management practices.
Last week, conditions on the course were very dry. Coupled with warm temps and low dew points, this gave us the opportunity to manage the moisture on putting surfaces to our greatest advantage. In situations like this, managing the putting surfaces to our greatest advantage brings the best out of the surfaces.
The series of photos below shows the right side of the seventh green beginning on Tuesday June 6th and progressing to the morning of Monday June 12th. What you will notice from the photos, is the excellent recovery and return of a more "normal" color, in just a few short days.
Tuesday, June 6th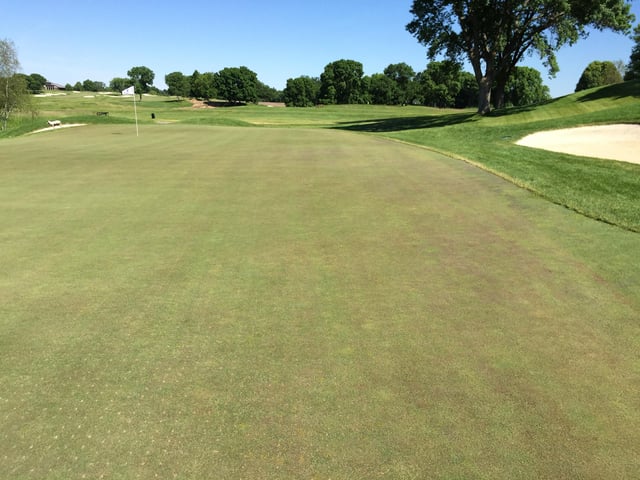 Wednesday, June 7th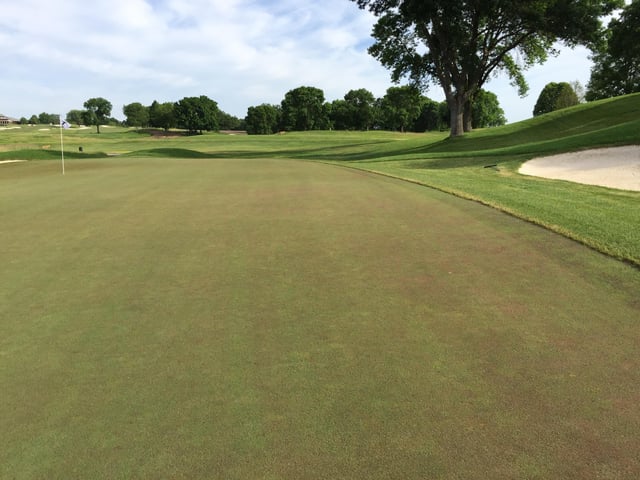 Friday, June 9th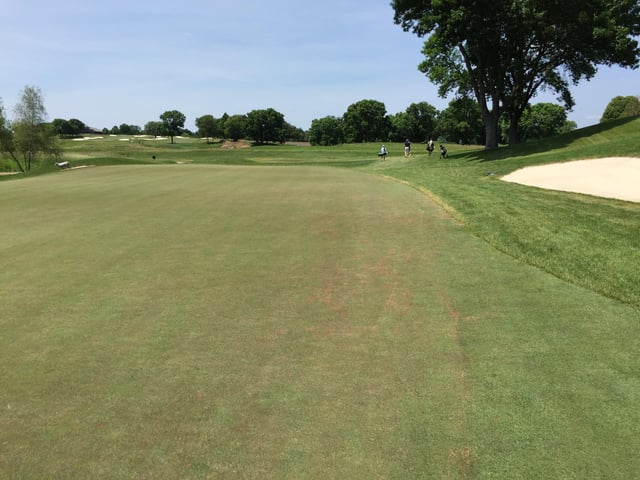 Monday, June 12th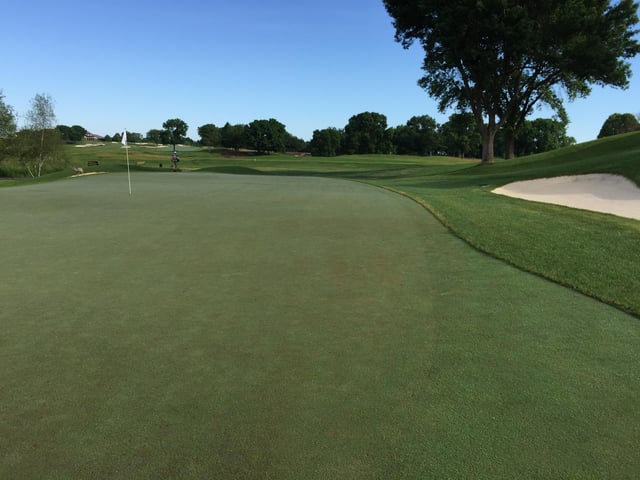 ---
In last week's post, I wrote on recovering from aerification. In that post, I listed the three goals considered for the management of our putting surfaces:
Provide the membership with a consistently excellent product.
Maintain surfaces at or very near 100% bentgrass.
Maintain the integrity and performance of the USGA construction system.
These three goals are just as relevant when it comes to managing bentgrass surfaces in warm/dry weather. Managing the putting surfaces the way we did last week not only leads to great playing conditions, but also helps to attain the three goals. Taking advantage of the virtues of bentgrass means that on occasions like last week, the results of our management practices will manifest in a brown tinge to the putting surfaces. This is completely normal for bentgrass putting surfaces. If you've been on the course over the past week, you'll have noticed the manner in which the color of the surfaces have bounced back. With a little food, rain and time, the greens bounce back in relatively short order.
---
Hazeltine National Golf Club is a golf club located in Chaska, Minn., about 30 minutes southwest of downtown Minneapolis. The club opened in 1962 with a mission to build and maintain a golf course suitable for the conduct of national championships. Hazeltine is one of only two courses in the United States to have hosted the U.S. Open, PGA Championship, U.S. Senior Open, U.S. Women's Open, U.S. Amateur, and Ryder Cup. Hazeltine's meeting and event space, golf shop, golf lessons and junior golf camps are open to the public. More information about Hazeltine is available at www.hazeltinenational.com.