After years of anticipation — and a summer filled with preparation — the 2016 Ryder Cup is almost here. After hosting U.S. Opens, PGA Championships, and many other national events, Hazeltine National is ready for golf's most prestigious international event.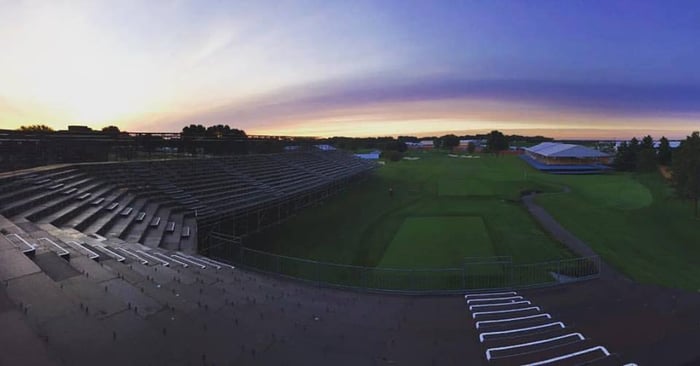 Busy Summer
Hazeltine's fairways have been bustling with activity all summer. It's been common to see Ryder Cup officials on-site, not to mention regular visits from the captains, players, and even some members of the media.

Meanwhile, construction crews carefully built the grandstands, corporate tents, concession stands, merchandise tents, scoreboards, bridges, fencing, restrooms and 10 large high-definition videoboards that will allow 40,000 or more fans to follow match-play action during the three-day competition that will be televised around the world.

The transformation has been amazing. But Hazeltine's preparations go beyond the physical changes.
On The Course
The 18-hole layout has been rerouted for the Ryder Cup in order to finish with holes 5-9 on the back nine — a change intended to move the most important action to holes with some of the largest viewing areas.
Hazeltine's membership volunteered to close the course to play after Labor Day to ensure pristine conditions.
And Hazeltine superintendent Chris Tritabaugh is getting additional assistance for his normal 50-member staff, with nearly 100 superintendents and assistants from Minnesota, Canada, Europe and Asia helping out — including the course manager from 2014 Ryder Cup site, Gleneagles in Scotland.
Know Before You Go
Gate hours are 7:30 a.m. to 6:30 p.m. on Sept. 27-29, 6:30 a.m. to 7 p.m. on Sept 30-Oct. 1 and 7:30 a.m. to 7 p.m. on Oct. 2.
Hazeltine National Golf Club is a private golf club located in Chaska, Minn., about 30 minutes southwest of downtown Minneapolis. The club opened in 1962 with a mission to build and maintain a golf course suitable for the conduct of national championships. Hazeltine is one of only two courses in the United States to have hosted the U.S. Open, PGA Championship, U.S. Senior Open, U.S. Women's Open, U.S. Amateur, and Ryder Cup. Hazeltine's meeting and event space, golf shop and specified services in the learning center are open to the public. More information about becoming a member at Hazeltine is available at www.hazeltinenational.com.
Topics: Championships