Many golf clubs claim to have championship golf courses. What does that mean? What is a championship golf course? Oddly enough, according to About.com, the traditional meaning derived from golf facilities that have more than one golf course. These facilities might have had an 18-hole golf course and a 9-hole golf course. When these clubs hosted tournaments, they were typically held on the 18-hole course, which was considered more challenging and would be referred to as the "championship course."
A championship golf course versus a course that hosts championships
Today, most every 18-hole golf course claims to have an "18-hole Championship Golf Course," and it amounts to, essentially, marketing language. It implies a demanding and challenging golf course worthy of hosting championships of sorts. Yet, no actual standard exists for what makes a golf course a championship course.
On the other hand there are golf courses that have hosted major golf championships, which we believe is closer tied to what a championship golf course should embody. For golf courses that have not hosted major championships, this may seem like an issue of semantics. However, if this is an important factor while considering membership at a private golf club, there are only a few in the Twin Cities that meets that criteria.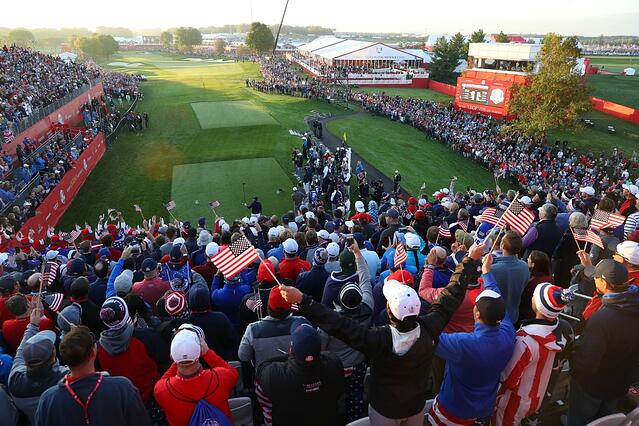 Hazeltine National Golf Club
Located in Chaska, MN, Hazeltine has hosted the U.S. Open in 1970 and 1991, PGA Championships in 2002 and 2009, the Ryder Cup in 2016, the U.S. Senior Open in 1983, U.S. Women's Open in 1966 and 1977, and U.S. Amateur in 2006. In 2024, it will again host the U.S. Amateur Championship, and in 2029 it will again host the Ryder Cup Matches. It is the only course to have been selected for the Ryder Cup twice. Often ranked as one of America's best courses, Hazeltine is the premier championship golf club in the upper Midwest.
Interlachen Country Club
Another nationally recognized golf club, Interlachen hosted the 1930 U.S. Open which was won by Bobby Jones. They also hosted the Solheim Cup in 2002, the 2008 U.S. Women's Open, and the 2016 Junior Ryder Cup.
Minneapolis Golf Club
In 1959, Minneapolis Golf Club hosted the PGA Championship, which was won by Bob Rosburg. Like Interlachen Country Club, Minneapolis Golf Club is a Donald Ross design and also hosted the 1950 U.S. Amateur.
The Minikahda Club
Located in southwest Minneapolis, The Minikahda Club hosted the 1916 U.S. Open which was won by amateur Chick Evans who, as legend goes, played with only seven hickory-shafted clubs. Minikahda also hosted the U.S. Amateur in 1927 and the Walker Cup Matches in 1957, and the U.S. Senior Amateur in 2017.
Keller Golf Club
Tucked away in St. Paul, some might find it surprising to learn that this municipal golf course played host to the 1932 and 1954 PGA Championships. The course also hosted PGA and LPGA Tour events until the 1970's.
A True Championship Golf Course Experience
At Hazeltine National, hosting major championships is part of our DNA. Our members play in the spirit of the game, walking - with and without caddies - on what we define as an 18-hole championship golf course.
Hazeltine National Golf Club is a private golf club located in Chaska, Minn., about 30 minutes southwest of downtown Minneapolis. The club opened in 1962 with a mission to build and maintain a golf course suitable for the conduct of national championships. Hazeltine is one of only two courses in the United States to have hosted the U.S. Open, PGA Championship, U.S. Senior Open, U.S. Women's Open, U.S. Amateur, and Ryder Cup. Hazeltine's meeting and event space, golf shop and specified services in the learning center are open to the public. More information about becoming a member at Hazeltine is available at www.hazeltinenational.com.
Topics: Championships