The 1970 U.S. Open Championship can be viewed as the pivotal event in Hazeltine's history. It produced a terrific champion, Tony Jacklin, whose masterful play resulted in a victory by seven shots. Yet, the championship is remembered for the controversy that surrounded it, rather than that dominating performance.
The grumbling about the golf course began early, with an article in Sports Illustrated by Jack Nicklaus, entitled "Blind Man's Buff at Hazeltine." After beginning the article bemoaning his 0-for-11 streak in major championships, Nicklaus stated that he could stop all of the nay-saying about his game with a victory at Hazeltine. "Unfortunately," he wrote, "Hazeltine will be as difficult as any golf course I have ever played in an Open."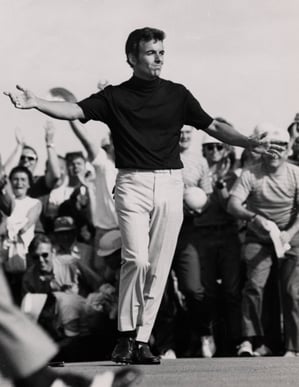 At 7,151 yards, Hazeltine was to be the second longest course in Open history, and as Nicklaus predicted, it turned out to be a tough test.
The first round of the championship was played in a ferocious wind, exceeding forty miles per hour at times. Almost half of the field, including Nicklaus and many other top players did not break 80. Jacklin, the reigning British Open champion, shot 71, and was the only player to break par. Three birdies in a row on the front nine gave him a fast start, and his calm demeanor carried him to the top of the leaderboard, as others complained about the wind on the course.
On Friday, the weather settled down and the scores dropped. Dave Hill shot 69 to finish at even par for the two days, three strokes behind Jacklin, who had made a risky recovery shot to birdie the 17th, where he had suffered a double bogey during the opening round.
During the third round, Jacklin faced the type of challenges that make an Open Champion. Jacklin finished with 70, while Hill shot 71.
On the final day, Hill pulled to within three shots with a birdie on the first hole, but Jacklin was unflappable. He made putt after putt of six to eight feet, and a thirty-foot birdie on the last hole to win by the largest margin of victory in an Open since 1921. He had played all four rounds under par, an amazing accomplishment given the conditions.
His attitude had carried him above the fray: "You have to accept life as it is. Just because you don't like certain things, they're not going to be changed. That's my attitude towards golf." Looking back at his victory, Jacklin wrote in 1991, "The more Dave and others criticized Hazeltine the more I programmed myself to approve of it."
The championship produced large crowds, exciting play, a commanding victory, and a media circus. Almost immediately the wheels were put in motion to attract another major championship, a process that would take more than twenty years, and would involve significant changes to the course that Jacklin conquered in 1970.
---
Major Moments
Watch Hazeltine members' inside the ropes experience at the 1970 U.S. Open Championship.
Hazeltine National Golf Club is a private golf club located in Chaska, Minn., about 30 minutes southwest of downtown Minneapolis. The club opened in 1962 with a mission to build and maintain a golf course suitable for the conduct of national championships. Hazeltine is one of only two courses in the United States to have hosted the U.S. Open, PGA Championship, U.S. Senior Open, U.S. Women's Open, U.S. Amateur, and Ryder Cup. Hazeltine's meeting and event space, golf shop and specified services in the learning center are open to the public. More information about becoming a member at Hazeltine is available at www.hazeltinenational.com.
Topics: Championships, Member Stories