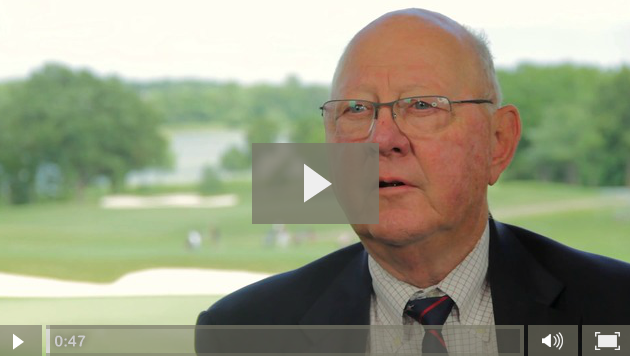 As Hazeltine prepares to host the 2016 Ryder Cup, our members are looking back at their favorite memories from the major championships we hosted in the past. Reed Mackenzie is a former USGA President (2002-2003) who was instrumental in bringing the 1991 U.S. Open to Hazeltine, yet one of his Major Moments dates back to the 1966 U.S. Women's Open at Hazeltine, where he noticed a talented 21-year-old who would go on to LPGA stardom under another name.
"I joined in 1966, so I was here for the Women's Open. And I remember seeing Mickey Wright, probably the greatest woman golfer of all-time, play here. And I remember a young woman by the name of Judy Torluemke (who finished 7th that year).
What I remember about her was she had a full turn and full swing and struck the ball beautifully. And of course, she later married and is now known as Judy Rankin, not only one of the great women professionals, but a fabulous golf announcer and spokesperson for women's golf."
Hazeltine National Golf Club is a private golf club located in Chaska, Minn., about 30 minutes southwest of downtown Minneapolis. The club opened in 1962 with a mission to build and maintain a golf course suitable for the conduct of national championships. Hazeltine is one of only two courses in the United States to have hosted the U.S. Open, PGA Championship, U.S. Senior Open, U.S. Women's Open, U.S. Amateur, and Ryder Cup. Hazeltine's meeting and event space, golf shop and specified services in the learning center are open to the public. More information about becoming a member at Hazeltine is available at www.hazeltinenational.com.
Topics: Championships, Member Stories