Rich Beem's Key Birdie Holds off Tiger Woods
With a win at both the 2002 Masters and U.S. Open, Tiger Woods had sportswriters and fans alike dreaming of a Grand Slam. He needed just two more wins — at the Open Championship and 2002 PGA Championship — to accomplish that impossible feat.
At the Open Championship in July, Woods ultimately finished tied for 28th. Though the possibility of a Grand Slam had evaporated, enthusiasm for Woods and the 2002 PGA Championship at Hazeltine National Golf Club remained remarkably strong.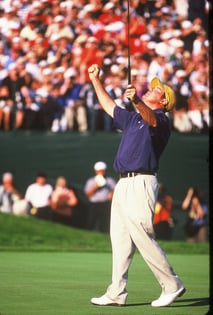 Woods was possibly the most recognizable athlete in the world at that time and his galleries were ten-deep all week. In round one, just as Woods approached his first tee shot, air horns sounded and play was suspended for three hours due to rain and lightning. Once play resumed, he managed a 1-under 71.
But while Woods battled fierce weather in front of record-breaking crowds, Rich Beem completed his first rounds in relative obscurity, posting an even-par 72, which landed him in the crowd 1-stroke behind Woods and 4 behind the leaders.
The second round included the shot that many in the game have called "the greatest shot of Tiger's career." On the 18th hole, Woods hooked his tee shot landing him in a bunker left of the fairway, 200 yards from the flagstick. Backed into the bunker's lip, crouched over and standing too close to the ball that lay below him, most expected him to punch it out into the fairway. Instead, Wood grabbed his 3-iron and shot a high draw up and over a stand of trees to within 20 feet of the hole. The gallery lining the fairway from tee to green erupted.
Woods ultimately birdied 18 to pull within two shots of the lead. Despite that memorable hole, Beem finished an exceptional round with 66, placing him in a 5-way tie for first.
Round three saw continued strong winds force a scoring average of 76. Woods and Beem bested the average; each posted even-par 72s on this difficult day. Justin Leonard had the only sub-70 round of the day, and his 69 gave him a 3-shot lead going into the final round.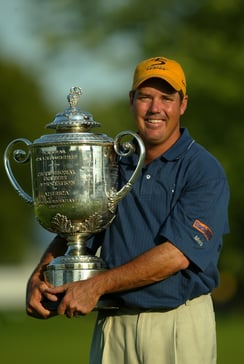 Leonard's lead evaporated quickly on Sunday morning. Paired for the final round with Beem, Leonard bogeyed the second hole and watched Beem birdie 3 and 4 to tie for the lead. Meanwhile up ahead, Woods birdied 4 and 7 to pull within 1 shot. Leonard landed his tee shot in the water on 8 and ultimately double-bogeyed that hole, leading to a two man showdown of Beem vs Woods.
Aided by an eagle on 11 and parring 12, Beem came to hold a six-shot lead over Woods. Woods roared back to close with four straight birdies on 15, 16, 17 and 18 and a final round of 67. But this impressive back-nine charge was not enough: Beem's 2-stroke lead heading into 18 was enough to hold off Woods.
After knocking in a short putt, he celebrated the victory with a memorable little jig. Beem finished the final round with a 68, 10-under for the tournament and one stroke ahead of Woods for the win.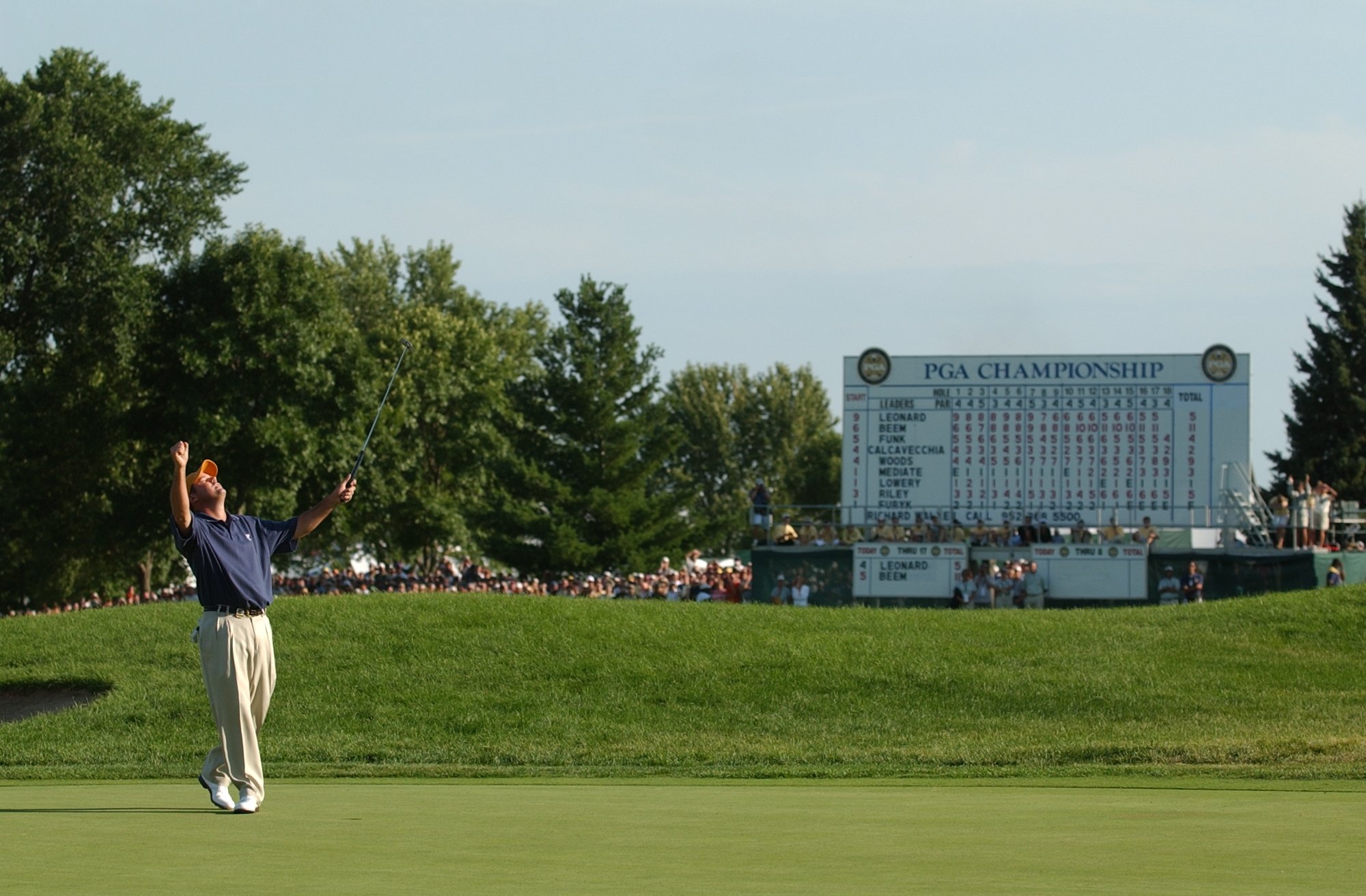 ---
Major Moments
Watch Hazeltine members' inside the ropes experience at the 2002 PGA Championship.
Hazeltine National Golf Club is a private golf club located in Chaska, Minn., about 30 minutes southwest of downtown Minneapolis. The club opened in 1962 with a mission to build and maintain a golf course suitable for the conduct of national championships. Hazeltine is one of only two courses in the United States to have hosted the U.S. Open, PGA Championship, U.S. Senior Open, U.S. Women's Open, U.S. Amateur, and Ryder Cup. Hazeltine's meeting and event space, golf shop and specified services in the learning center are open to the public. More information about becoming a member at Hazeltine is available at www.hazeltinenational.com.
Topics: Championships