Richie Ramsay, 23, entered the 2006 U.S. Amateur after a narrow defeat in the 2005 Walker Cup as a member of the Great Britain and Ireland Team. Using that loss as inspiration, Ramsay defeated future professional stars Rickie Fowler and Webb Simpson before triumphing over John Kelly, 4 and 2, in the final.
A native of Aberdeen, Scotland, Ramsay became the first Scottish player to win the U.S. Amateur since 1898, earning a place in the next U.S. Open and British Open, and a likely invitation to play in the next Masters Tournament.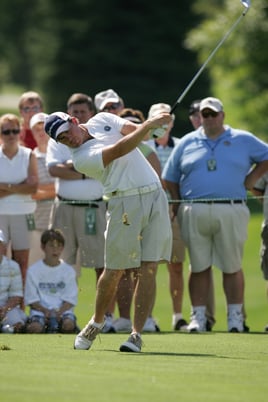 Ramsay won four of six holes with birdies to take a 3-up lead after 13 holes and then held on the rest of the way to beat John Kelly, 21, of St. Louis, Mo., 4 and 2, in the 36-hole final of the U.S. Amateur championship Sunday at Hazeltine National Golf Club.
Kelly cut Ramsay's lead to 1 up in the afternoon round with a winning birdie on the 21st hole, but could get no closer. The match ended on the 34th green, when Kelly conceded Ramsay's 12-footer for birdie after his own birdie putt from just a bit farther away lipped out.
"I can't believe my name is going to be on that trophy," said Ramsay, the winner of the 2005 Irish Amateur Stroke Play Tournament. "I'm quite speechless right now and close to tears. Everything went according to plan. I can't believe it!
"I think this could have a big impact on Scottish golf," Ramsay continued. "I'm just a guy from Aberdeen who loves playing golf. I work hard at it, and it just shows what someone can do when they put their mind to something. I think the celebration will last quite a while when I get home."
Three of the last four Amateur champions have been foreign-born, with Ramsay joining 2003 winner Nick Flanagan of Australia and 2005 winner Edoardo Molinari of Italy.
Ramsay was unstoppable in the afternoon, hitting all but two fairways and all but one green.
"He stuck it to me all day," said Kelly, a senior at the University of Missouri and the 2006 Missouri Stroke Play champion. "But I can't be too disappointed. I was a nobody and now I'm a somebody, I think."
Ramsey and Kelly each won two of the first eight holes, but Ramsey's birdie on the par-3 eighth started a three-hole run that put him comfortably ahead at 2 up. He took advantage of Kelly's misfortune on the ninth and won the hole when Kelly conceded his 15-foot putt for birdie, and then sank a 20-footer for a winning birdie on the 10th.
Ramsay also took the 13th by concession when Kelly missed his tee shot to the right and needed two chips to get on the green. Ramsay had again put the pressure on by hitting his long-iron tee shot to within 18 feet of the hole.
"Without being big-headed, if I go out and play my game and play the shots that are in my bag, there's no reason why I can't win," said Ramsay earlier in the week. "You've got to think you can win."
Kelly trimmed Ramsay's lead to 2 up at the halfway point when Ramsay putted his 50-foot birdie chance off the green and made a bogey to lose the 17th hole, his first bogey since the first hole of the day. It would be his last.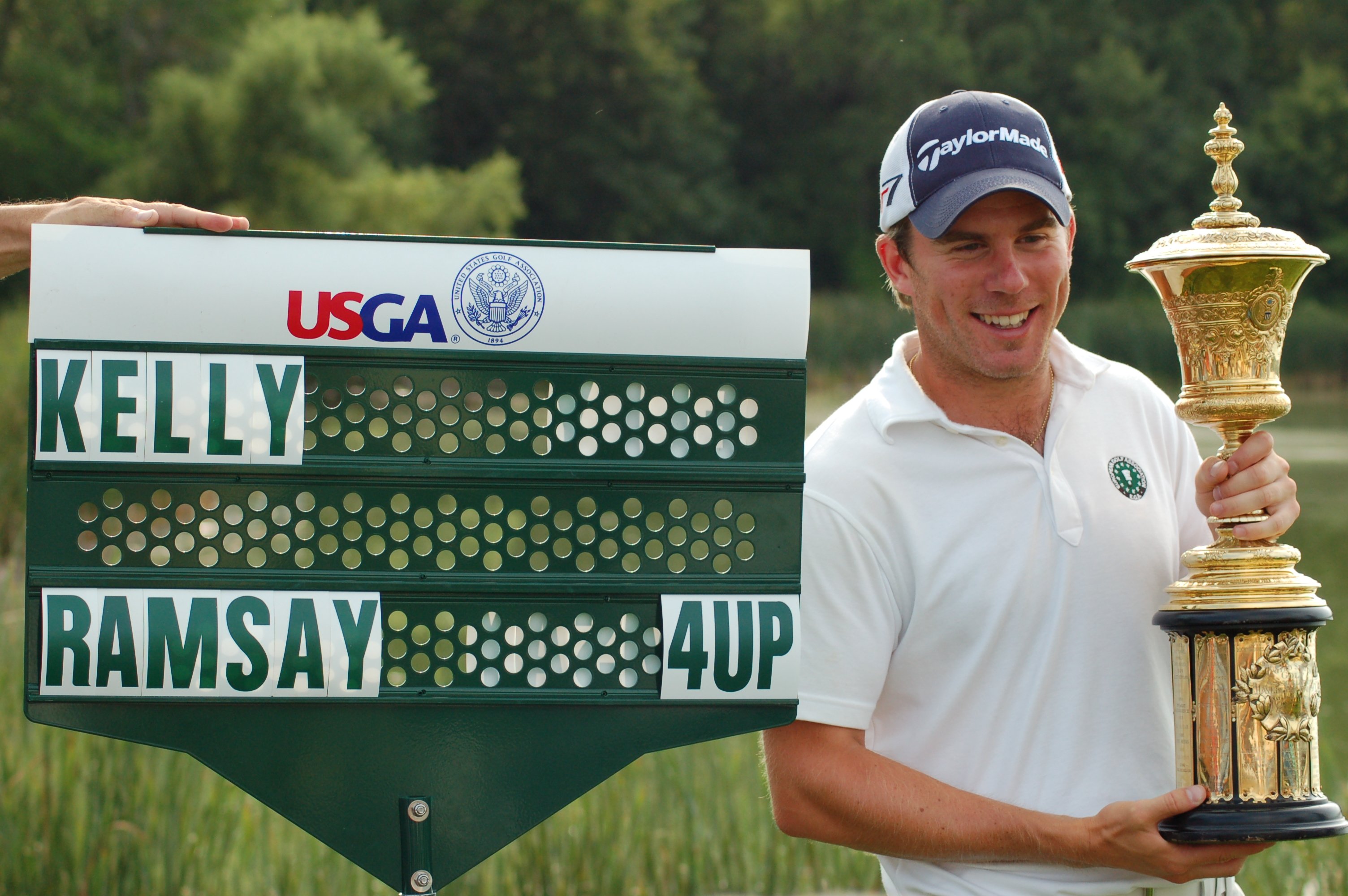 He was the equivalent of three under par for his morning round, with the usual concessions given for match play. He finished the equivalent of six under par for 34 holes over the longest Amateur course ever, a 7,473-yard layout that has been host to the 1970 and 1991 U.S. Open and the 2002 PGA Championship.
While at Hazeltine, Ramsay met his future wife, Angela, and the two were married at Hazeltine in 2012.
Also of note: Billy Horschel set a USGA qualifying round record with a 60 at Chaska Town Course in stroke play qualifying.
Hazeltine National Golf Club is a private golf club located in Chaska, Minn., about 30 minutes southwest of downtown Minneapolis. The club opened in 1962 with a mission to build and maintain a golf course suitable for the conduct of national championships. Hazeltine is one of only two courses in the United States to have hosted the U.S. Open, PGA Championship, U.S. Senior Open, U.S. Women's Open, U.S. Amateur, and Ryder Cup. Hazeltine's meeting and event space, golf shop and specified services in the learning center are open to the public. More information about becoming a member at Hazeltine is available at www.hazeltinenational.com.
Topics: Championships