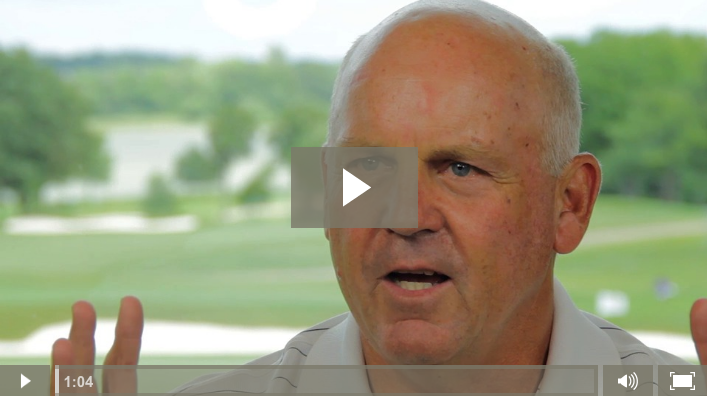 As Hazeltine prepares to host the 2016 Ryder Cup, our members are looking back at their favorite memories from the major championships we hosted in the past. Scott Stevenson's Major Moment came during a break in the action at the 2002 PGA Championship, when he got a unique behind-the-scenes look at how the pros handled a rain delay during the third round — a moment he compared "going to church."
"My first involvement in a Major was at the 2002 PGA Championship. I had been a member for a couple years, and I volunteered as most members do here for a committee, and it happened to be the locker room.
We had a rain delay and everybody had to come in off the course. We bring in 70 or 80 players and I'm thinking this is going to be a hubbub of activity. These guys are in the middle of the third round of the PGA Championship,
And for an hour or hour and a half, 80 guys basically sat or laid, on the benches or on the floor, like they were in church — with no anticipation, nothing. They were trying to stay in whatever zone they were in. And once the rain delay was over, they all kind of got up and went back out.
That was the most surreal thing, because these are mid- and late-twenty or early-thirty-year old men, but they were in the middle of their job. And it was like church."
Hazeltine National Golf Club is a private golf club located in Chaska, Minn., about 30 minutes southwest of downtown Minneapolis. The club opened in 1962 with a mission to build and maintain a golf course suitable for the conduct of national championships. Hazeltine is one of only two courses in the United States to have hosted the U.S. Open, PGA Championship, U.S. Senior Open, U.S. Women's Open, U.S. Amateur, and Ryder Cup. Hazeltine's meeting and event space, golf shop and specified services in the learning center are open to the public. More information about becoming a member at Hazeltine is available at www.hazeltinenational.com.
Topics: Championships, Member Stories