Chaska, Minn. (January 28, 2022) Hazeltine National Golf Club has named Kyle D. Brandt, PGA as the club's new Head Golf Professional. Brandt will lead the club's golf operations after nearly four years as the First Assistant Golf Professional at San Francisco Golf Club in San Francisco, Calif. Kyle is just the fourth Head Professional in Hazeltine's storied 60-year history. He will succeed Chandler Withington, who led the club's golf program for nearly 10 years.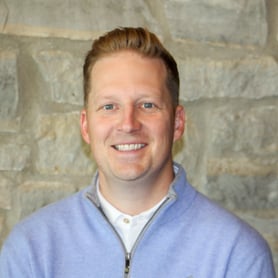 Brandt comes to Hazeltine with past experiences at the Tournament Club of Iowa, Indian Ridge Country Club, Rosewood CordeValle, and San Francisco Golf Club. As a Professional who was fortunate to work at a variety of high-end clubs, he's the perfect candidate to lead and deliver the level of customer service for which Hazeltine is known. Brandt brings the perfect combination of Midwest charm, private club intimacy, and five-star hospitality service to the team.
"As a Professional who has been in the golf industry since the age of 13, I have been fortunate to have worked many different positions and will lead by example while setting clear directives and tasks for the staff," said Brandt. "One of my greatest strengths is creating a warm and welcoming environment filled with fun and energetic staff who will go the extra mile to get the job done. Building a team who is like family is extremely important, as we will spend most of our time working toward the same goals."
Hazeltine's Vice President Dan Mulheran was tasked to form a Search Committee to identify the best candidate. Paired with Hazeltine's Search Committee, the PGA of America Executive Search was hired to execute the administrative function of the process and to engage their network of PGA Professionals. Together this group outlined the specific criteria — centered around six key attributes — that were used for discernment of the candidates. Those attributes were consistency, stability, one-of-us, team builder, elevation, and perspective.
"Kyle understands the importance of consistency in the member experience. We're excited as he has the ability to turn any situation into a positive experience," said Mulheran. "Kyle is a leader who demonstrates Midwestern humility and carries himself with refinement, class, sophistication, and confidence. We look forward to Kyle being a leader who will mentor and shape our exceptional golf operations team with a vision for continuous improvement. We feel Kyle embodies these attributes and we look forward to him joining us in March."
Brandt steps into the role as Head Golf Professional as Hazeltine lays the groundwork to host its second U.S. Amateur in 2024 and as the club is set to be the first U.S. venue to host the Ryder Cup Matches for a second time when it returns in 2029. The championship course was designed by Robert Trent Jones in 1962 and later remodeled by Rees Jones. In addition to its iconic Ryder Cup, Hazeltine has hosted two U.S. Opens, two PGA Championships, the U.S. Senior Open, two U.S. Women's Opens, the KPMG Women's PGA Championship, and the U.S. Amateur Championship.
As the head of the golf operations, Brandt will lead the golf shop, outside services, and locker room teams to ensure the highest level of service for the club's members and guests. Brandt will oversee merchandise-related activities and vendor relationships at Hazeltine. He will also be a member of the club's contingent representing Hazeltine with local and national golf organizations such as the MGA, Minnesota PGA Section, USGA, and PGA of America.
Topics: featured