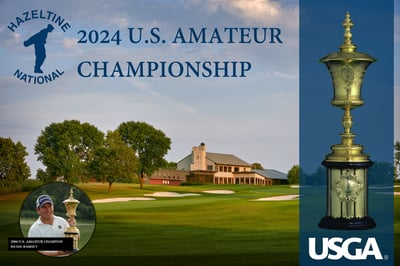 Hazeltine National Golf Club has been selected to once again host the United States Amateur Championship in 2024. On Thursday, February 21st at the United States Golf Association's Annual Meeting, the USGA announced the U.S. Amateur Championship will be contested at the famed club for a second time. Hazeltine, in conjunction with the Chaska Town Course, will share the qualifying stroke play rounds leading up to match play.
Home of USGA Championships
This will mark the 10th USGA championship Hazeltine has hosted since its founding in 1962
1966 US Women's Open Championship

1970 US Open Championship

1977 US Women's Open Championship

1983 US Senior Open Championship

1991 US Open Championship

1994 US Mid-Amateur Championship

2001 USGA Men's State Team

2006 US Amateur Championship

2020 US Junior Amateur Championship

2024 US Amateur Championship
Robert Fafinski, President of Hazeltine National Golf Club, said, "Hosting our country's National Amateur Championship further fulfills the mission of Hazeltine National. Along with our co-host, the Chaska Town Course, and our experienced membership and volunteers, we look forward to presenting a premier event."
7 Decades of Championships
Hazeltine has a strong history hosting championships with the PGA of America. The Club has hosted the 2002 and 2009 PGA Championship as well as the tremendously successful 2016 Ryder Cup Matches. The Club is hosting the 2019 KPMG Women's PGA Championship in June of this year and will be the first club in the United States to host the Ryder Cup for a second time when it returns in 2028. Chairman of the 2016 Ryder Cup, Patrick Hunt, commented, "We are thrilled to host our second US Amateur and we thank the USGA for the opportunity to bring the world's best amateur players to Hazeltine National."
While this will be the second time the Amateur is contested at Hazeltine, it has been played in Minnesota one other time. In 1927, the Championship was contested at The Minikahda Club.
Topics: Championships