Hazeltine National is Proud to Host the 2020 U.S. Junior Amateur Championship
NOTICE: On April 24, 2020, the USGA has elected to cancel the upcoming 2020 U.S. Junior Amateur Championship due to COVID-19 pandemic. Please read the press release available, HERE.
See below for more information on volunteer opportunities!
Hazeltine National and the state of Minnesota are excited to host the U.S. Amateur Championship July 18-25 of 2020. This marks Hazeltine's 9th USGA Championship.
For most contestants, this championship will be their pinnacle achievement in golf — we are calling on everyone to help in hosting what will surely be a very memorable championship experience.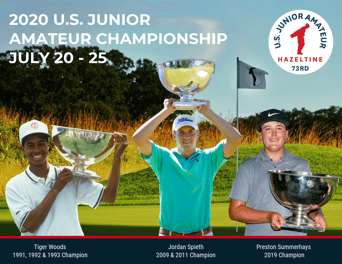 Volunteer opportunities include but are not limited to:
Forecaddies
Standard Bearers
Status Boards
Hydration
Ecology
Evacuation Drivers
Volunteer Hospitality
On behalf of the Hazeltine National Golf Club and the U.S. Junior Amateur Executive Committee, thank you in advance for helping make the 2020 U.S. Junior Amateur Championship a wonderful and exciting experience for the contestants.