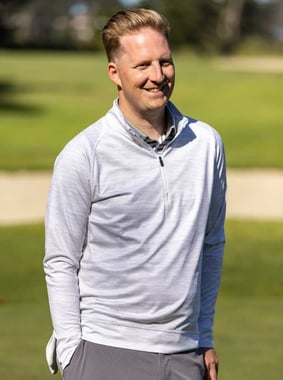 A good head golf professional sets the tone for the member experience at a club. They need to be knowledgeable, personable, and organized all at once. Kyle Brandt has all those clubs in his bag, plus many more. Brandt joined Hazeltine in March 2022 as just the fourth Head Professional in Hazeltine's storied history and he understands what an important job he has.
"Hazeltine is a unique club," says Brandt. "From the golf IQ of the members, to the championships, to the course conditions, to the level of play between women, men, and juniors - it's all exceptional. But what really sets us apart is customer service."
Brandt studied golf management at the University of Nebraska and began his career as the Head Golf Professional at the Tournament Club of Iowa. His midwestern charm helped him succeed at several courses in California (Indian Ridge Country Club, Rosewood CordeValle, and San Francisco Golf Club).
Midwestern Roots Keep Holding Strong
As someone who calls the Midwest home, Brandt is looking forward to getting reacquainted with the area. He loves to experience all types of food and attend all things sports. And of course, his new role means being closer to family in Minnesota and Iowa, where they put on a lot of miles in his formative years.
"it will be great to get back to my roots," Brandt said. "Growing up, I played every sport that involved a ball or competition. My parents were busy shuttling me from baseball, basketball, football, golf, soccer, track, cross country, and even wrestling. Being a strong competitor, I loved the challenge of each sport."
It was his father who influenced his long-term commitment to the game of golf, though.
"With his advice on 'which sport can you play your whole life,' the decision to play golf was very evident," Brandt said. "Looking back, this was obviously an influential decision. It allowed me to turn a passion into a career. And, incredibly, the fourth professional in Hazeltine's history."
Brandt's Connection to the Game Strengthen Hazeltine's Connection
Brandt's connection to the region and the game is why he's excited to continue strengthening Hazeltine's own historic ties to the game every single day. He knows that starts with the members.
"Enhancing the member experience across the club is so important," says Brandt. "A great day-to-day experience boils down to staffing. Staffing does not mean just warm bodies that are available. It means having people who are outgoing, have a high work ethic, desire to serve, and are willing to engage. Attention to detail is key."
Brandt understands what a special place Hazeltine is and how important it is that both members and their guests have an experience that is second to none when they visit.
"We intend to 'roll out the green carpet' for everyone," says Brandt. "You'll see it in our daily operations, tournament settings. Even Monday events. When you invite a friend as a guest, they come to Hazeltine thinking about the championship experience they may have only seen on TV. We want them to feel it in everything that we do."
Brandt will lead Hazeltine's golf shop, outside services, locker room, merchandise-related activities, and vendor relationships. He will also help represent the club with local and national golf organizations such as the MGA, Minnesota PGA, USGA, and PGA of America. This will be an important role in the years ahead as Hazeltine prepares to host its second U.S. Amateur in 2024 and become the first U.S. venue to host the Ryder Cup Matches when they return in 2029.
Brandt is excited for the spotlight that will shine on Hazeltine and plans to put together a strong team to be ready for it.
"One of my greatest strengths is creating a warm and welcoming environment. You want a fun and energetic staff who will go the extra mile to get the job done. Having a team who is like family is important when we're spending most of our time working toward the same goals."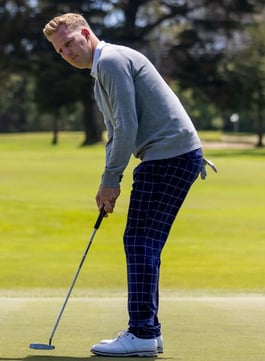 Brandt's focus won't only be on the big events. He understands all members and their guests deserve to feel special every time they visit. With the recent elimination of many fees and the addition of member-only pricing in the golf shop, Hazeltine continues to look for ways to improve the experience for members every day.
"One of the most important things I have learned at previous clubs is building the sense of community or family feeling," says Brandt. "Each club I have been a part of had their own flare on cultivating community, but all had a "brotherhood" / "sisterhood" aspect which made them unique. Cultivating community stems from equality across each type of member – male, female, scratch golfers, and those with higher handicaps. Being inclusive in every aspect brings everyone together."
On your next visit to Hazeltine look out for Brandt and introduce yourself when you see him. He'll be thrilled to meet you.
Topics: Golf Course Update