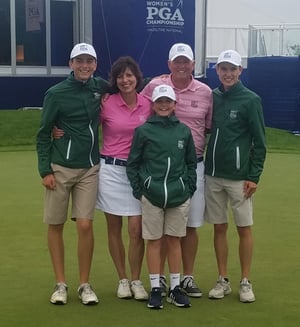 When Ruth Kimmelshue looks back at the 2019 KPMG Women's PGA Championship, it's hard not to get excited about the huge crowds, excellent execution by her team, and Hannah Green's clutch up-and-down to seal her first major. Ruth has nothing but fond memories of her experience as the general chair of the 13th major championship at Hazeltine National.
"It was a real privilege. I'm so proud of what our entire team and club accomplished," she says. "And the volunteers, the work that they do to put these big events together. It is just remarkable and humbling to see the big things and the little things that our volunteers did to make sure that the championship was a success."
Still, beyond the success of the tournament itself, Ruth takes the most pride in two major accomplishments: introducing the LPGA players to a Hazeltine-style championship experience and mentoring a set of younger members to become a part of the club's championship tradition for the future.
Commitment to the Committee
When Ruth agreed to become the Chair of the Host Committee, she had two conditions. As a Senior Vice President at Cargill, she needed her company's blessing, and she wanted longtime friend Marcia Lockman as the Vice Chair. "Marcia was a great right-hand person and I couldn't have done it without her."
In fact, Ruth is quick to spread credit to the entire championship team – and for good reason. "We have so much experience at Hazeltine doing these kinds of events," she notes. "You identify the right leadership in the club and you kind of point them in a direction and then they move it forward. So that was outstanding."
Yet despite all that experience, this year's leadership team was a little different.
"I wanted more women in divisional and committee chair roles because it's a women's event. And our women are incredibly talented, all very successful and impactful in their own right," she notes. "The leadership structure – the executive committee, divisional chairs, and committee chairs – were 60% women, so that was a success"
In order to position the club for future championships, like next year's Junior Amateur, the 2024 U.S. Amateur, and the 2028 Ryder Cup, she also placed an emphasis on mentoring during this year's event.
"At Hazeltine, one of the things we do is host major championships, so you've got to have a succession plan in place," she explains. "We've got the 2028 Ryder Cup coming, so let's bring some of the younger members along so that we begin to prepare them to actually lead that event and give them a little bit of experience both through mentoring and experience at the championship itself."
Working with the PGA
Of course, it helps to work with familiar faces. The PGA of America was back at Hazeltine for the fourth time, after hosting PGA Championships in 2002 and 2009 along with the 2016 Ryder Cup. Renee DeLosh returned as Championship Director and the teamwork between the PGA and Hazeltine staff felt seamless.
"The PGA is a tremendous and important partner for Hazeltine, and we were really fortunate to have such a strong PGA team onsite," Ruth says. "Renee DeLosh and her team were just delightful to work with."
Familiarity with the course itself also helps. Ruth notes that Hazeltine National was designed to host major championships and that layout continues to hold up over time.
"The PGA of America loves to come to Hazeltine because of the infrastructure that we have. It's a great golf course for watching professional golf," she says. "The setup just made it feel like championship golf, because of the natural structure of the golf course, especially near the clubhouse and the 18th green, and the way we were able to build in some of the tournament's infrastructure to accentuate that."
Making Hazeltine Special
Since Hazeltine has so much experience hosting men's championships, Ruth and the committee set an extra goal for themselves. They wanted to treat the LPGA players to a level of championship hospitality they hadn't seen before.
"When you compare and contrast the experiences that the men have at their championships and the women have at theirs – because we have the opportunity to do that – it's just a different level," she explains.
Some of the special treatment the players received included:
Personalized notes from Hazeltine's PGA Junior League team
Special gifts for the players and caddies
Smoothie bar in the players' dining area
Candy buffet with candies from all the different nations that the players represent
There were also courtesy cars for all of the players. Most LPGA tournaments only have courtesy cars for the top 20 players, but Ruth made sure that the PGA provided cars for all players at the KPMG Championship this year.
And Ruth is especially proud of a move that was spearheaded by Hazeltine General Manager Eric Rule. The women used the men's locker room in the clubhouse because it's bigger, but Eric made sure it didn't look like a men's locker room.
"You couldn't see the urinals," Ruth explains. "We built a wall around the urinals so you didn't even know they were there. We painted it to match, and then we brought in special amenities, special soaps, and shampoos to make it really feel like a locker room for ladies. It's a subtle example, but that stuff really matters in the end."
Personal Memories
Another major memory is more personal. Ruth was paired with Ariya Jutanugarn during the pro-am, a fun experience that became extra special because of the way Ariya bonded with Ruth's 11-year-old daughter Ruby.
"Ariya was just delightful," Ruth remembers. "They just had this incredible conversation about when they started playing golf, because it turns out both of them started playing when they were five."
Ariya Jutanugarn was in the hunt throughout the tournament. She started the final round in 2nd place and finished tied for 10th, yet she still had time to recognize her newest fan.
"As Ariya was walking between the 9th green and 10th tee, she saw us standing there, and stopped to give Ruby this big hug," Ruth remembers. "You would never see that with the men. It just made Ruby's day and it proved to me that these women are real people who appreciate the support that they get and their lives are not just about golf. It was really special."
Topics: Championships, Member Stories