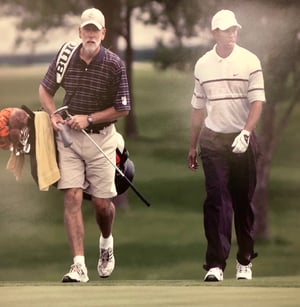 If you want to learn about Hazeltine's history, just visit Jim Arnold in the Golf Shop. Now in his 42nd summer working at the club, Jim has been here longer than the clubhouse itself.
"When I started working here, there weren't metal woods yet," he notes. "We were playing this golf course with wooden woods, steel shafts, and balata balls."
Since then, he's watched the lengthening and softening of the golf course, worked at all of the major championships, carried Tiger Woods' bag on one very memorable morning (details below), and made friends with just about all of the members.
42 Years of Memories
It all began back in 1977, when Jim was looking for something to fill up his summer breaks as a teacher at Wayzata High School. "I thought I'm not going to sit around because I'd drive myself crazy," he remembers. "And why would I want to pay to play golf when I could work at a place?"
Jim started as the caddy master that first summer, but that felt a little too much like working with the kids at school, so he switched to the Golf Shop in the summer of 1978. And the rest is literally Hazeltine's history.
"I've seen just about every major change that Hazeltine's made," he says, describing the various changes made to lengthen the course and soften the dramatic doglegs of the original Robert Trent Jones design.
He also remembers working in the original clubhouse, which was replaced in 2009. "We had a traditional cash register and a paper tee sheet when I started," Jim remembers. "People would erase their names, and then someone else would write with ink and then try to cancel it out. What a mess."
Now, the tee sheet has been replaced by a spreadsheet, and the new Golf Shop has light wood, big windows, and an open design that would feel at home at the Mall of America. Jim also likes the modern checkout terminal that can charge a visitor's account at just about any club in the country. Yet he says the one thing that really hasn't changed much over the years is the membership.
"It's a club of golfers," he points out. "That's what's so cool. Regardless of their backgrounds, the members are golfers. They love golf, and they love golf at Hazeltine."
So Much For Retirement
Jim actually retired as a full-time teacher 14 years ago, after a 33-year career at Wayzata. But he never stopped teaching. Upon "retirement," Jim immediately took a part-time job at The Blake School in Minneapolis, where he teaches Anatomy and Physiology to juniors and seniors, and Introductory Biology to 9th graders.
And, of course, he's still going strong at Hazeltine.
"Yeah, I'm failing miserably at retirement," he jokes.
Besides being a fixture in the Golf Shop, Jim runs the driving range when major championships visit Hazeltine. Spend five minutes chatting, and you'll hear names like Scott Simpson, Payne Stewart, Arnold Palmer, and Colin Montgomerie — not to mention how much he enjoyed the team aspects of the Ryder Cup.
Yet nothing quite compares to the day he caddied for Tiger Woods.
Caddying for Tiger
It happened a couple of weeks before the 2002 PGA Championship. Tiger and Mark O'Meara flew into town for an impromptu practice round to scout out the course on a Monday, and Jim got Tiger's bag.
"Hands down, it was the coolest thing," Jim says. "It was easy to caddy for him, and I think I did a pretty good job of answering most of his questions. But I mis-clubbed him on one hole."
It was the only blip of the day, but it provided a memorable moment. "I got my guidance from the wrong sprinkler head, so I missed by probably 15 yards. And he hit a shot that was right on line but was long," Jim remembers. "He wasn't angry, but I could tell he was looking at me like, what was that? I said I know, I know, I mis-clubbed you, and he kind of gave me a look. The whole thing was pretty cool."
It got even better two weeks later, when Jim was watching Tiger warm-up before the final round of the PGA Championship. He was gearing up to duel all day with Rich Beem in their memorable final round, yet he still noticed Jim in the crowd.
"There were people 10 to 12 deep around this green and he's up there chipping," Jim says. "So as he's heading for the first tee, he walks over to me to shake my hand and says 'thanks a lot for helping me out,' which I thought was really cool."
When Will He Really Retire?
Now 73 years old, Jim still enjoys working at the club and the opportunity to play the course — both during down-times and when he's invited by members, which explains why his handicap hovers between 6 and 4.
"What happens is the more that I play Hazeltine, the more that will creep up," he says. "If I play other golf courses that don't seem as hard, then it will creep down again."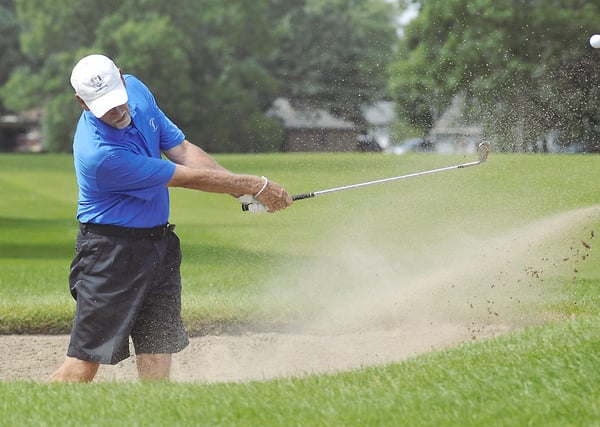 If that sounds like a guy who isn't ready to hang up his golf clubs or either of his jobs, you're right. Jim looks forward to working the driving range during the KPMG Women's PGA Championship in late June, working again at Blake during the next school year, and working in the Golf Shop for years to come.
"My official goal is that I want to work the driving range for the 2028 Ryder Cup," he says. "Then I can really retire."
Topics: Championships