As we continue our countdown to the 2018 Golf Season, we spend some time chatting with Hazeltine's 2017 Club Champions. This week we welcome guest blogger and 2017 Women's Club Champion, Colleen Zwach. This two-time Club Champion shares some impressive hole-in-one stories, and a great one-liner that's also a positive approach to the game, no matter how you're playing.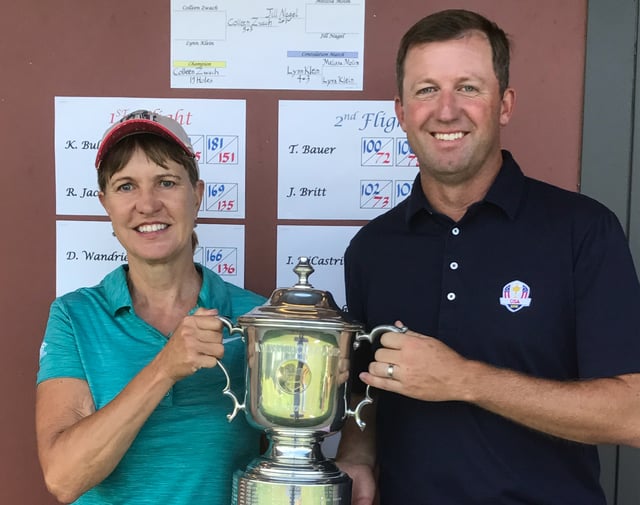 Every golfer dreams of having a hole in one. I played golf for 30 years before having my first. I really didn't think it would ever happen for me. I thought I was destined to collect a lot of $2 bills for the "two club" but never would get an ace. I had been awfully close many times, once hanging on the lip of the cup by an old ball mark that hadn't been fixed correctly. Once I hit the pin and it stayed two inches from the hole and that would have been worth $10,000 in a charity golf outing. I'm sure I would have donated it back to the charity. But my first finally came at a Hazeltine guest day. Hole eight was a closest to the hole contest for members that day. I walked off with $20 in prize money and a $300 bar tab. I think I got off light.
Before my first hole in one, my husband (who has four holes in one, including one on a par four) would razz me saying that I play 150 rounds a year and that I've done that for the last ten years since retiring at age 41. That's 6,000 failures. Way to be positive, Jeff! I made my first hole in one at age 51 and then had three in three and half years. The first one is the hardest to get. But they were all pure shots—no skipping over the lake, no lucky bounces off of rocks. I saw all three of them go into the hole.
My father in law, Jerry Seeman took 50 years of golf to make his first hole in on. He went on to make three in 50 days. Shortly after that he was diagnosed with cancer, fought it valiantly but was taken from us way too early. He also had the distinction of being the playing partner and witness to a man who had back-to-back holes in one–a long par three with a driver and then a short par three. Also a friend of mine, Brenda Williams from Windsong Farm, made four holes in one in just 11 months this past year. I told her Jerry's story but so far so good on her health!
In the winter I play golf at another fantastic golf club, Desert Mountain, which has six golf courses in one membership. As you can imagine there are some pretty good players up here. A friend of mine, Bobbie, who plays in the Cooper Cup at Hazeltine (which is a Women's Invitational) has 10 holes in one. Another, Shaye, has nine, and then quite a few other members have eight. Desert Mountain once had a threesome that played a par three in five under par–one birdie and two holes in one. Two balls in the same hole and another within a foot. Easy pin?
Hazeltine's Head Golf Professional, Chandler Withington, recently asked how I mark my golf ball. He was collecting balls from past Club Champions. I usually play a ball that is stamped with "One in a Row." That saying comes from a story playing with a friend of mine, Pete Salpietra, a former C.H. Robinson Branch Manager. He hit a ball out of bounds on the fourth hole at Bearpath (a par four) and then hit his third shot in the fairway. His next shot, from roughly 150, goes in the hole. It was a great par instead of a wonderful eagle. He hit it in the hole from that distance and said, "Hey Colleen, that's one in a row." I thought it was funny and started saying it when I'd hit my first really good shot of the day. Sometimes on the first tee, sometimes later in the round. He had since developed early onset Alzheimer's, but when we talk he still remembers "One in a Row."
Hazeltine National Golf Club is a private golf club located in Chaska, Minn., about 30 minutes southwest of downtown Minneapolis. The club opened in 1962 with a mission to build and maintain a golf course suitable for the conduct of national championships. Hazeltine is one of only two courses in the United States to have hosted the U.S. Open, PGA Championship, U.S. Senior Open, U.S. Women's Open, U.S. Amateur, and Ryder Cup. Hazeltine's meeting and event space, golf shop and specified services in the learning center are open to the public. More information about becoming a member at Hazeltine is available at www.hazeltinenational.com.
Topics: Member Stories