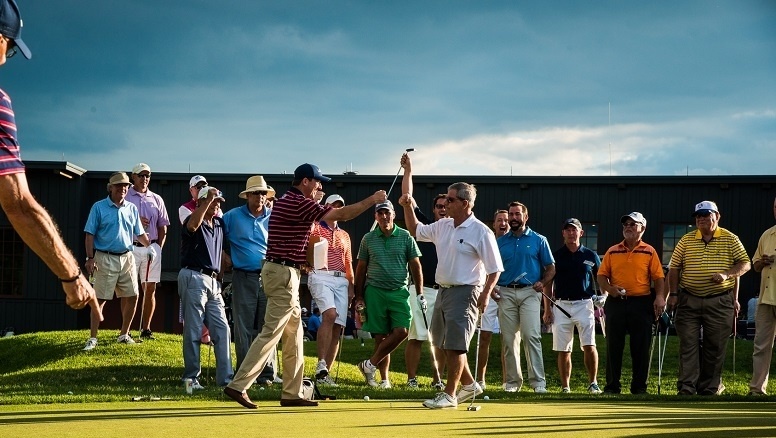 When it comes to golfers and their equipment, one size does not fit all. Height, arm length, grip size, swing path, angle of attack, club head speed and more factor into what clubs a player should employ. But all golfers do have one thing in common: they can reap benefits from a club fitting with a PGA professional.
Club Fittings Aren't Just For Pros
"Avid golfers generally get fit for all their clubs," says Mike Barge, director of instruction at Hazeltine National Golf Club. "But there's always been this fallacy around those who think, 'I'm a beginner. I don't want to spend a lot of money on clubs. I just want to hit something and see if I like the game first.' Well, to me, that's backwards. Those people need to be fit even more."
Barge explains that being properly fit for clubs helps to fully appreciate the game and gauge one's interest. "Say if I was a new player and I just took my buddy's clubs and they were too long or too short, or too heavy or too light, and felt awful. Well, what's going to happen? I am going to quit the game. I'm not going to play."
For everyone from beginner to advanced player, a club fitting can certainly help for enjoying the game. Perfecting the swing is complicated enough—from the grip and takeaway to the downswing, contact and follow through—so the last thing you want are clubs that don't fit.
"For people just starting out, if they want to get that 'wow factor' out of hitting a correct shot, seeing it up in the air, they need to get fit big time," Barge said. "While for the advanced players, it's a hard enough game you don't want to be fighting your equipment."
"You've got 14 clubs in your bag and you want to have 14 friends in there that are fit for you," he says.
What Happens At A Golf Fitting
The fitting process begins with an interview for each golfer in which the fitter discovers what the golfer has been using and how it has been working for them. Contrary to some golfers' misperceptions, golf professionals are in the business to help you play better golf, not to sell you new equipment.
"I don't think it's a bad idea for players to bring their current clubs to a fitting and just do a little comparison," Barge says. "They will hit their driver and they'll hit a couple other drivers until we discover: 'Your driver's fine. Don't spend $500 for a couple of extra yards unless you're mad at your money.' But if the new clubs are gaining 10 extra yards, then let's go."
After the interview, the player starts loosening up a little bit with a golf simulator, and the fitter begins looking for patterns.
More Than A Fitting
"You start talking about teaching and fitting—in a sense you are trying to do both at the same time," Barge says. "I want to see the pattern: this person slices the ball; that person hits it really low. Then you talk to them about it. 'Are you a low-ball hitter? A high-ball hitter? Where is your miss—left or right? Off the toe? Off the heel?' After a few swings you start to see the pattern come out."
Barge is quick to point out that it doesn't take very long for a club fitter to see tendencies and patterns. He says you can find out what you need to know after just a few swings.
"Particularly when it comes down to the better player, you don't need to take that many swings," he says. "You give me three swings with a driver, I can tell you after three swings whether a club doesn't work or feels like a winner."
Advanced players have been getting fit and reaping the benefits for several years. Beginners should get one before poor-fitting clubs drive them from the game. And anyone else who has limped along with their grandfather's "Ol' Billy Baroo" because they've made a few clutch shots with it, well, technology is passing you by.
"The tech has improved big time," Barge says. "If your clubs are four or five years old that tech is still pretty good. But if it has been 10 or 15 years since you bought a driver or fairway woods or hybrids or even wedges, the tech is just getting better and better to where I'd like to think that with a change they could see some improvement immediately."
Hazeltine National Golf Club is a private golf club located in Chaska, Minn., about 30 minutes southwest of downtown Minneapolis. The club opened in 1962 with a mission to build and maintain a golf course suitable for the conduct of national championships. Hazeltine is one of only two courses in the United States to have hosted the U.S. Open, PGA Championship, U.S. Senior Open, U.S. Women's Open, KPMG Women's PGA Championship, U.S. Amateur, and Ryder Cup. Hazeltine's meeting and event spaces, and golf shop are open to the public. More information about becoming a member at Hazeltine is available at www.hazeltinenational.com.
Topics: Golf Tips