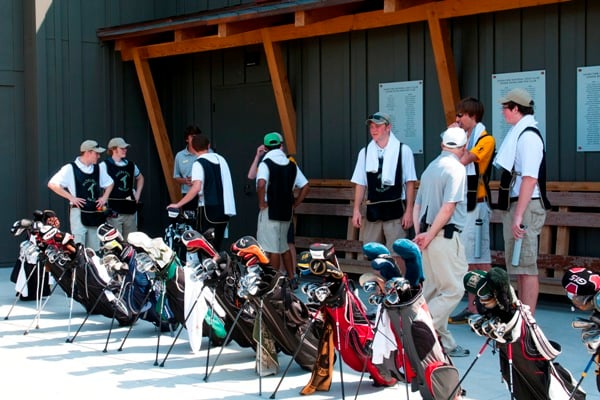 We see the important interactions between PGA and LPGA Tour players and their caddies huddling on television all the time.. The Tour pros are the best in the world, and they still rely on the expert advice of their teammate. That advice helps them succeed when the stakes are highest.

If a caddie can help a Tour pro that much, imagine what they could do to improve your game. Sure, there are some potential challenges to employing a caddie: You think you don't need one; you don't want someone intruding on your foursome; the added expense does not seem worth it.

But, perhaps, the biggest hindrance is golfers who are unfamiliar with caddies, who do not know how much a caddie can enhance their experience and improve their game.

"There are not a lot of caddie yards across the country. It's the outlier," said Chandler Withington, head golf professional at Hazeltine National Golf Club. "Typically you see a lot of people riding golf carts, carrying their bags, and push carts are prevalent here in the Midwest.

"But I walk onsite at Hazeltine and quite often hear people say, 'I took a caddie for the first time.' So, it's about getting golfers exposed to it and then talking to them about the benefits."

The benefits start on the first tee, especially when you are playing a course for the first time. Withington said caddies serve as a guide that can be beneficial right out of the gate.
"You step up to a tee on a hole you haven't played before and you are wondering, 'Where are we going here? What's the plan?'" he said. "They help you come up with a game plan."

Caddies provide local knowledge to golfers who are new to a course, and they provide a knowledgeable second set of eyes for course veterans, especially on the greens.
"Caddies know what's going to happen on the green, if there is trouble over the green, which way a putt will break or what to do in a certain situation," Withington said. "There is real value in taking away the level of discomfort of playing a golf course for the first time."

Caddies rake bunkers, find golf balls, clean them on the green, and tend the flagstick—taking the little things off the golfer's plate so they can focus on their next shot.

"They are also another person in the group, so there is the camaraderie," Withington said. "They are your teammate. For the next four hours, they want you to play well."

But caddies are not all created equal, and at most clubs there are different levels of caddies, to match the golfer's wants and needs. Matching the golfer with the right caddie enhances the experience.

At many private clubs, the caddies receive training and gain experience to provide the best round possible. The levels are B, A and Honor caddies (with forecaddies typically made up of Honor caddies), and each have their own abilities.
"B" Caddies
The B caddie is the entry-level, first-year caddie who begins with the basics:

Carry the golf bag. ("If a caddie does nothing else but carry the golf bag around for 18 holes, they've served one of the most basic functions of a caddie," Withington said.)

Locating and spotting the ball. That includes tracking the golf ball (specifically off the tee) if it goes offline and into trouble, and how to come up with reference points for finding it.

Taking care of the course. From how to rake the bunkers to fixing ball marks, replacing divots and how to care for the flagstick.
"A" Caddies
As the caddies are promoted to A level, they begin establishing a better understanding of the golf course (and begin to recognize their golfer's abilities), becoming more of a guide. They calculate yardage and suggest options that consider risk and reward for their specific player.

"For example, they will get their laser range finder out and say, 'You've got 154 to the hole, but we've got a little bit of breeze, so this is going to play closer to 160-165 yards—and we want to keep this to the right of the hole,'" Withington said. "They will coach you around trouble and start to have an emerging ability to read greens. Not an expert ability, but they're really starting to understand how the ball moves on the green."
Honor Caddies
Honor caddies, which is often the highest level of caddie service, are typically those who have been caddies for about three years (although some pick it up faster than that). Honor caddies can carry one or two bags, or they can be a forecaddie and service up to four players. An honor caddie knows how to multitask. And again, some of the biggest insights occur on the greens with Honor Caddies.

"The biggest value of an honor caddie is the local knowledge on the greens and being able to give expert green-reading advice—when requested by a player," Withington said. "We provide green-reading training. It's basically a study of physics and gravity and helping them understand how to identify low points and the speed of the green and how those influence the roll of the ball."

"They won't carry bags. They are going to be more of a runner," Withington said. "As soon as the players tee off, the forecaddie will be spotting golf balls, getting yardages, raking bunkers, taking care of the flagstick around the green, cleaning the golf ball and cleaning clubs. Forecaddies are an active part of the experience at Hazeltine and help with pace of play."

Regarding the camaraderie of caddies, Withington knows it first-hand. For a time, he worked winters as a youth and professional caddie at Seminole Golf Club in Florida and learned how four hours on a course with a player can blossom into a relationship, future employment or even a lifelong friendship. Now, 16 years after caddying for ESPN sports analyst John Buccigross, Withington still gets together with him to play the occasional round.

He sees those relationships forming with the current Hazeltine caddies and their players, also:

"I think about a member of ours who had as a regular caddie a young lady who now attends the University of Wisconsin. He said he got a hand-written note from her when she went off to school, talking about the impact of their relationship and what it meant to her. Those are the kind of relationships that just reinforce the value of what we're doing here."
Hazeltine National Golf Club is a private golf club located in Chaska, Minn., about 30 minutes southwest of downtown Minneapolis. The club opened in 1962 with a mission to build and maintain a golf course suitable for the conduct of national championships. Hazeltine is one of only two courses in the United States to have hosted the U.S. Open, PGA Championship, U.S. Senior Open, U.S. Women's Open, KPMG Women's PGA Championship, U.S. Amateur, and Ryder Cup. Hazeltine's meeting and event spaces, and golf shop are open to the public. More information about becoming a member at Hazeltine is available at www.hazeltinenational.com.
Topics: Golf Tips