During a snowy, cold winter, it can be a little difficult to hone your golf skills. But, that doesn't mean it's impossible!
In order to make sure you're well-prepared for golf season, here are four adjustments you can make without even taking a lesson.
Re-evaluate current equipment
Do you need new grips? Are the loft and lie on your irons properly adjusted for you? Are your clubs clean and ready for the next season?
When taking a second look at your clubs, here are a few things to consider:
Cracked or dry-rotted grips should be replaced. Not only are they less attractive and uncomfortable, but they affect your grip ability and can more easily slip out of position during a strong swing.

Consider looking for specialty clubs. This is especially important with your wedges. If you like to take full swings, you should consider a higher lofted club, like a 60 degree. Also, if you're interested in expanding your club options, try a hybrid — the right club can make a long fairway shot a lot easier.

Size your clubs to your own playing style. The best clubs for you are the ones made for you. It costs extra, but for the hardcore golfer, it may be worth it.
If you'd like some personalized help with your clubs, stop by the Hazeltine Pro Shop with your bag and ask for Andy, Mike, or myself to take a look at your grips, loft, and lie.
Go shopping for new golf balls
If you are satisfied with your clubs, have you looked at the ball you play? Believe it or not, there is a big difference between different brands and styles of golf balls. There's also a big difference between cheap golf balls and expensive golf balls.
Cheaper golf balls typically last longer because they're made of a durable elastic plastic called surlyn ionomer. But they don't perform as well as expensive golf balls when it comes to finesse plays. That's because expensive golf balls often have a urethane cover. This cover scuffs easier (which can affect your shots' speed and direction), but it also allows for much easier spin.
You'll also have to compare more vs less layers (anywhere from two to five layers). Essentially, the more layers to a golf ball there are, the more control the player has over the spin on the ball. The fewer layers there are, the less control but more distance.
Finding a ball that fits you properly can add distance and control to your game.
Practice!
Of course, the winter weather makes it a little harder to practice, but there are other options. You can use simulators, either in-home practice equipment as a gift, or you can stop by our Pro Shop to use our golf simulator and get tips from our in-house professionals.
As the snow thaws and you're not currently making an effort to practice, make it a New Year's resolution to practice more than you did last year. Hit the driving range, the putting green, practice chipping in your backyard, do whatever it takes!
Work on strength and conditioning
Golf is about finesse and strength. Going to the gym, working on your swing, and studying the game is just the beginning.
I hope you find some of these adjustments helpful for getting in shape for the 2019 season. I wish you all a safe and Merry Christmas!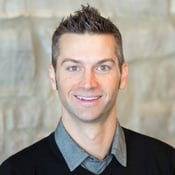 Chris Baisch
Teaching Professional
Topics: Golf Tips