Because golf is played outdoors, we must pay attention to the conditions which change on a daily basis. Over the years, I have listened to hundreds of interviews with golfers who had just won a golf tournament. One common thread has stuck out to me as many have discussed how they were able keep their minds engaged in the moment. It is an important element to a player's success in golf as the elements are always changing around us. These are important to not only notice, but also be aware of in how they will affect our play.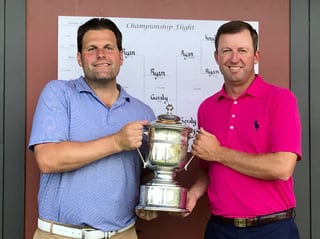 I was reminded of this recently as I walked along with our Men's Club Championship final match. As we walked towards the 14th green, I overheard a comment between our eventual Champion Jordan Ryan and his caddie, which told me his mind was in the present. Ryan's caddie was surprised to learn his drive had ended up all the way behind the left greenside bunker. Ryan's response was, 'The ground is firm. Can't you feel it in your feet?'. Ryan was left with a difficult pitch shot over 10 yards of rough to a pin that was only 8 feet onto the green. Had Ryan played the shot to land on the green, it likely would have rolled 10 – 20 feet away from the hole due to the ground firmness. Because Ryan was aware of the firm ground conditions, he landed his ball in the rough, knowing it would bounce a few times before rolling onto the green. He played the shot beautifully and made his 6-foot putt to end the match.
Years ago, Paddy Harrington shared a similar story with me. While in a playoff against Sergio Garcia in the 2007 Open Championship, Harrington noticed the temperature dropping rapidly. On the 1st playoff hole he watched as Garcia's approach shot landed 5 yards short of the greenside bunker. Harrington was aware enough to realize the colder temperatures would affect how far his shot would fly. In turn, he chose to play a 6 iron over the 7 iron he had been holding in his hand. It turned out to be a great decision as Harrington made birdie to Garcia's bogey, and went on to win his first of three major championships. Garcia would have to wait 10 more years before his time would come at Augusta.
Staying Present
An aware golfer is one whose mind is always in the present. They notice the subtleties that could affect how they play their shot. Here are a few examples of conditions which change on a daily basis:
Ground conditions: Has it rained recently?
Speed of the greens: Be sure to make time before a round to identify the speed of the greens for the day
Wind: These days, there is actually an app for that!
Elevation: The higher the elevation, the farther the ball will carry in the air (Want to feel like a long drive champion? Play golf in Colorado)
Temperature: The hotter the temperatures, the farther the ball will carry in the air
How you feel: Are you paying attention to how your body feels throughout the round? Are you hydrating and staying nourished?
Green reading: Are you using all of your senses, including balance, to detect which direction your putt will break? Are you watching how others player's putts break to learn how it could affect your own?
The left side of your brain is the side which pays attention to these many changing factors. So, let it do its work and stay in the moment as you play!
---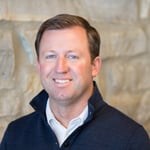 Chandler Withington is Hazeltine's Head Golf Professional. Prior to leading golf operations at Hazeltine, Withington was on the golf staff of Merion, Seminole Golf Club, and other highly regarded clubs. Withington is a historian of the game, and values the life lessons learned on the course.
Topics: Golf Tips