Over the next few weeks I will share a few routines I go through to get ready to play golf. One of the most important is the process I use to identify the speed of the greens. From day-to-day and from course to course, the speeds of the greens change. The trick becomes, how can we measure how fast or slow they are and be able to adjust accordingly? If we could all carry around a stimpmeter, which is a tool used by superintendents to measure the speed of the greens, we would be just fine. Since many of us don't own this tool, allow me to share the process I use to identify green speeds.
Your own personal stimpmeter
The first thing I do is find a flat portion of the putting green where I can roll a 30 – 40 foot putt. I start making some practice strokes just to find my rhythm. Once I feel my normal rhythm, I set up and take the putter head back until it is even with my right toe and then follow through. Keep in mind I am not aiming towards a target, I am simply hitting the putt on a flat area. After the first putt, I repeat the process with a second ball. If my rhythm is consistent and I take the putter head back to the same point, even with my right toe, the two golf balls should be very close to each other.
Here is where I find out the green speeds – I pace off how far the balls rolled. When the greens are slow, I will only pace off 9 – 10 steps. Normally I pace off 13 – 18 steps, but I have been on greens where I have paced off 27 steps (Chicago Golf Club for those who are wondering).
The amount of paces I take allows me to get my mindset for the day. It's important to remember this rule:
The slower the greens are, the less that breaking putts will break.
Vice versa – the faster the greens are, the more break I need to account for on breaking putts.
Warm up and confirm green speed
To continue my warmup routine, the next thing I do is pace off that same amount of steps from a hole. I then take the putter back to my right toe again and hit some more putts to confirm the speed. Again, if my rhythm is consistent, my putts should stop right at the hole. Next, I hit some putts from a distance that is farther than the steps I originally counted. For these putts, I want to make sure that I take the putter head back further than my right toe. Finally, I hit some putts from a distance that is half of the steps that I originally counted. On these putts, I am making sure that the putter head only goes back half as far towards my right toe.
In the simplest form, I am controlling the speed of my putt by how far back I take the putter head while maintaining a consistent rhythm to my putting stroke.
Confused? Here's a video
If I have totally confused you with all of this language, please watch this video and hopefully this process will become more clear. Speed control is such an important component to scoring, so be sure to dedicate 3 – 4 minutes before each round to identify the green speed for that day.
---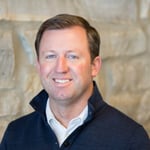 Chandler Withington is Hazeltine's Head Golf Professional. Prior to leading golf operations at Hazeltine, Withington was on the golf staff of Merion, Seminole Golf Club, and other highly regarded clubs. Withington is a historian of the game, and values the life lessons learned on the course.
Hazeltine National Golf Club is a private golf club located in Chaska, MN. The club opened in 1962 with a mission to build and maintain a golf course suitable for the conduct of national championships. Hazeltine has hosted the U.S. Open, PGA Championship, U.S. Senior Open, U.S. Women's Open, U.S. Amateur, and Ryder Cup. Hazeltine's meeting and event space, golf shop and specified services in the learning center are open to the public.