As I look at the temperature this morning and see it's -10°, my first reaction is, "Why do we live here?!" Then, I am comforted by memories of the beautiful, golf-filled summers we enjoy each year.
But just because it's cold outside doesn't mean we can't still play golf! Even if you can't travel to someplace warm, you can still work on your game at an indoor golf simulator.
Stay Consistent
For the best results, find an accurate golf simulator. You can gauge its accuracy by comparing it to your own game on the course. If your max drive has never been more than 275 yards and every drive on the simulator is going 350, you know it can't be that accurate.
Also, look for one that has the ability to practice and play. If you can set a profile, the systems now will keep track of all your shots with each club, and will start to give you an accurate account of the distance and direction.
Once you've found a simulator you trust, stick with it. Going from one simulator to another can start to make you question your shots and consistency.
Try This Drill
One of the benefits of using a simulator is the ability to see the trace of the shot. So take advantage by using this drill to work on the shape of your shots: Show up left and fall right and then have it start right and fall left. Having the ability to shape your shots will come in handy out on the real course when you need to curve your ball to certain hole locations.
Long or Short?
Is it better to work on your tee-shots or your short game? It's actually effective to work on both. But, if you only have time to work on one thing at the simulator, hitting wedge shots from 50-110 yards might be the best use of your time.
Play with Friends
If you can join a league at one of the locations, there's nothing like being able to play with friends or other golfers who share the same passion.
Hazeltine's golf simulator can be played without even having to hit a short game shot and can be very competitive amongst the members. There are long drive competitions, closest to the pin challenges, and much more.
Even in the coldest temperatures, make sure you are doing something to keep yourself swinging a club to prepare for golf season.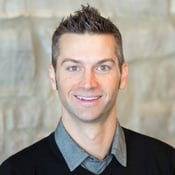 Chris Baisch
Teaching Professional
Topics: Golf Tips