With the rainy, cloudy and chilly fall we've had, it can be hard to find the time to get out and play a round of golf. But if you are heading out to play in windy or rainy weather, it's important to remember how the weather can affect your putting game.
Seasonal Weather Changes Affect Grass Height
Seasonal changes affect the speed of the greens. Why? Simply because the Grounds Crew at your local golf course will adjust the height of the mower to account for the differing temperatures.
In the fall for example, the height of the greens is higher because grass growth slows down, and mowing too low could harm the turf. That means you'll need to give the putt a little extra mustard to get it where you want it to go. But the best way to know the green height is by rolling a few practice putts before you tee off. That way, you'll get a feel for the course green speed that day.
Wind Can Knock Your Putt Off-Course
You may think that wind only affects your drives and fairway game, but in reality it affects every stroke. Even though your ball isn't in the air while putting, the wind can still push it. So if you are playing on a day with high wind speeds, make sure to consider the direction of the wind, and compensate your line accordingly.
Wet Greens Slow Down the Playing Field
If you're playing in rain or after a rainy day, note how much moisture is on the surface of the green. Greens tend to collect water more than anywhere else on a hole, and your putt won't roll through a puddle! Even if there aren't any puddles, wet greens are slower than dry greens, so be aware of how the green feels before you make your first attempt.

In golf, there are many things that need to go right in order for you to have your best round possible, and paying attention to the elements is an important factor in improving your scores. So, watch the forecast and impress your golf partners with these tips next time you go out!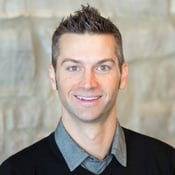 Chris Baisch
Teaching Professional
Topics: Golf Tips